Google's Sub-$100 'Android One' Phones Coming First To India | TechTree.com
Google's Sub-$100 'Android One' Phones Coming First To India
The Android One initiative will be rolled out with three OEMs at first - Micromax, Karbonn and Spice.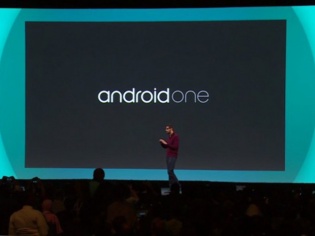 One of the biggest announcements made at Google I/O was the Android One initiative, through which Google will help OEMs develop affordable smartphones. The initiative will especially target manufacturers in developing markets such as India, where budget smartphone sales still makes up about 10% of the market.
Currently most budget smartphones already run on Google's Android mobile operating system, but they're only offer a substandard Android experience and still cost a lot more than feature phones. To bridge this gap, Google has stolen a few tricks right out of Mozilla's books, where the software making company develops and identifies components that should go into low-cost smartphones.
This should hopefully bring down the cost of developing Android smartphones, atleast for manufacturers who Google qualifies for its Android One initiative. "We are going to be launching it around the world, but will launch in India first in the fall of this year," said Sundar Pichai, VP at Google. The devices will go or less than $100, according to him.
[See also: Spice And Intex To Sell Mozilla's Low-Cost Firefox Smartphones In India]
Just recently Mozilla tied up with Intex and Spice to bring phones running on Firefox OS in India. The companies are looking to launch phones as low as $20, which should hopefully allow them to break the dominance of the feature phone. Google's move is directly aimed at quashing this movement, and maintain its dominance in the budget end of the market.
The other problem of offering a substandard Android on cheap devices will hopefully be solved by Google handling all the updates to the devices themselves. By controlling the hardware, it becomes easier for the company to roll out new features and software updates, sort of like what Apple does with its devices.
[See also: Google Unveils Android One Platform For Budget Smartphones]
The final piece of good news? Google has selected three OEMs to kick off its Android One program – Micromax, Spice and Karbonn, who should now be able to take the fight to manufacturers like Samsung and Motorola with cheaper and better smartphones. Interestingly all three are Indian mobile brands and out of the three Spice has tied up with Mozilla.
Probably the most important thing about the Android One program is the fact the manufacturers need not feel threatened about losing control. Google will still offer the ability to customize Android (within the prescribed tolerances) to help OEMs better distinguish their devices, but just not with budget devices.
Google is giving hardware manufacturers access to its Play Store to help them add locally relevant apps to their devices. It's also handling all the software updates automatically, just like it does for Nexus devices.
TAGS: Google I/O 2014, Google, Android One, Micromax, Karbonn, Spice, low-cost smartphone