LG & Samsung's Android Wear Smartwatches Now Available In India | TechTree.com
LG & Samsung's Android Wear Smartwatches Now Available In India
Both devices will be available on Google's Play Store in India and cost a litte more than a Moto G.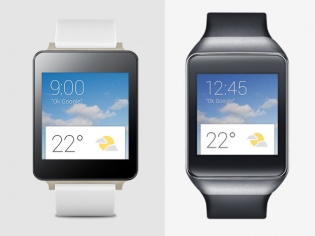 It's been just a few hours since LG and Samsung officially unveiled their Android Wear smartwatches at Google I/O, and the devices have already made their way to the Play Store in India. LG's G Watch is priced at Rs 14,999 and will be available in two colours – Black Titan and White Gold, while Samsung's Gear Live is priced at Rs 15,900.
Both devices are among the first to adopt Google's Android Wear platform which has been tailor made for wearables. The smartwatches will be supported by all smartphones running on Android 4.3 or higher, regardless of the make.
The devices feature changeable straps, and square displays which is unlike the third Android Wear device showcased at Google I/O – Moto 360. Currently none of these devices have their own GSM receivers and will therefore not be able to make phone calls or more importantly function without a smartphone.
[See also: Complete specifications of LG and Samsung Gear Live]
They can display notifications (Google Now Cards), send text messages, check email and search the Internet through Voice Search. Moreover, the smartwatches will function as extensions as one's smartphone rather than an all encompassing smart devices.
While customers in India can already order the LG G Watch, the Samsung Gear Live wears a 'coming soon' tag on the Play Store. We still recommend you hold on to your purse strings for a little longer, as Motorola's smartwatch, the Moto 360, is just around the corner.
[See also: Microsoft Rumoured To Be Working On A Fitness-Tracking Smartwatch]
TAGS: LG G Watch, Samsung, Gear Live, smartwatch, wearable, Android Wear