Samsung To Unveil An Android Wear-Powered Smartwatch At Google I/O | TechTree.com
Samsung To Unveil An Android Wear-Powered Smartwatch At Google I/O
The device will be unveiled alongside the Moto 360 and LG's G Watch, just what tech lovers have been waiting for.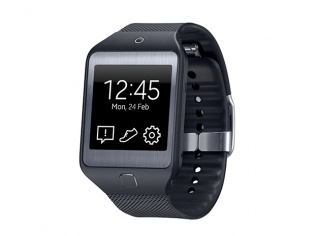 Samsung is all set to join the ranks of Motorola and LG in launching its very own Android Wear powered smartwatch at the Google I/O which begins on June 25. According to a Cnet report, the device will be much like the Galaxy Gear devices that the company has launched in the past one year.
It was earlier rumoured that Asus could be the third manufacturer to showcase its wearable device running on Android Wear. However all signs now point to Samsung, who very recently had said they would stay away from Android Wear for powering their wearables and would stick to their own Tizen OS.
According to the report, Samsung is currently working on Android Wear devices that run on its own processors as well as on chips made by Qualcomm. It isn't clear which among the two devices Samsung will unveil at the Google I/O.
[See also: LG's G Watch To Be A Give-Away At Google I/O 2014]
Motorola and LG will also unveil their Android Wear powered smartwatches at the event, and it should be quite interesting to see how the three manufacturers have adapted the platform. If the Samsung device is like its Galaxy Gear cousin, it could be sensor rich unlike Motorola's take on the smartwatch.
The wearables market is expected to triple in size by the end of this year, with an estimated 19 million devices being sold as against just 5 million devices in 2013. That number is further expected to grow to 111.9 million by 2018, making it the next big thing in the technology world.
[See also: Leaked: Images Indicate LG G Watch May Require Android Wear App Installation]
While Samsung failed to comment on the development, it is to be seen if the company continues to sell its Tizen powered wearables. The company is all set to launch its first Tizen powered mobile device in Russia and then Indian within the next few months, so it's sure that the company isn't abandoning the Tizen ship just yet.
TAGS: Samsung, Android Wear, smartwatch, wearable, Google I/O 2014