Meet Volantis; Your Next 9-Inch Google Tablet From HTC?
Yes, your next Google tablet may be built by HTC, now that LG has no clue about it.
Say hello to the Volantis. The tablet which according to many sources has been in the Android rumour mill for long, and will in all probability be built by HTC. Android Police has scavenged an image and has leaked the screenshot showing a listing and specs of what appears to be the HTC Volantis; the next tablet from Google.
The image shows the Volantis in white, a design which is strikingly similar to LG's Nexus 5 handset; including the protruding rear camera module and the embossed Nexus logo on the back (more on this later). The specifications alongside the image of the device mentions a zero-gap aluminium construction with tapered sides, meaning that this device will indeed stand in line with Google's upcoming, premium Silver range.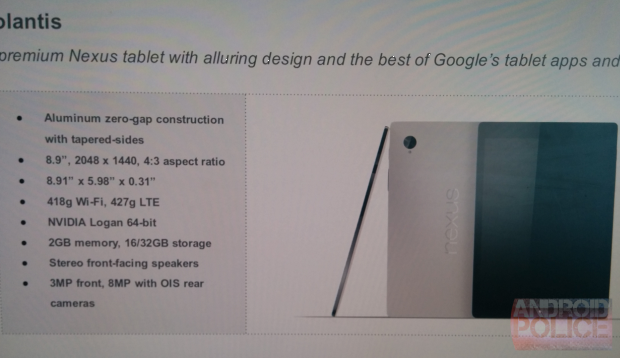 The device will supposedly sport an 8.9 inch, 2048 x 1440 4.3 aspect ratio display and will be just 7.8 millimetres in thickness. This brings it pretty close to the recently launched Samsung GALAXY Tab S which is just 6.6 millimetres thick.
[See Also: Samsung Takes On Apple; Makes GALAXY Tab S Lighter Than iPad]
Inside, we find the mighty NVIDIA Logan 64-bit processor which is the Tegra K1, coupled with 2 GB of RAM and will come with 16/32 GB internal storage options. On the back, we find an 8MP OIS (Optical Image Stabilisation) primary camera with a 3MP unit up-front. Also mentioned in the device specifications of the Volantis is the presence of front-facing speakers (which could be HTC's BoomSound).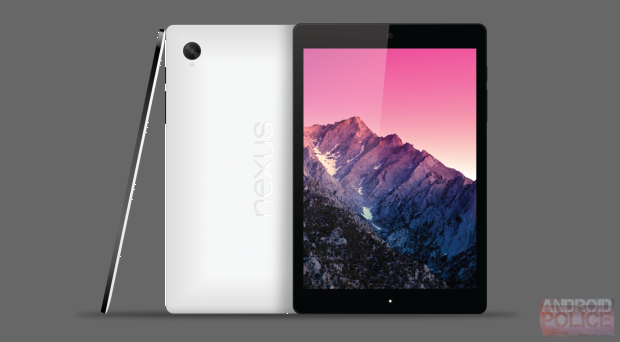 Interestingly, the device in the image does not match the specifications (at least in terms of construction, display and the speakers). The three somehow are almost non-existent in the render produced by Android Police for the same.
May be the specifications belong to a device which was conceived recently with an image of an LG made tablet which no longer exists (the Nexus program has been canned). Anyways, we will know soon, as Google may announce the same at the upcoming Google I/O event which takes off in two days.
[See Also: Google To Ditch The Nexus Range Completely]