Aakash Tablets "Literally Free" For University Students
Subsidised costs will be borne by universities.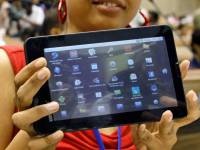 As students continue to wait to get their hands on the low cost Aakash tablet, the government has plans to make the device free for colleges and universities throughout India. However, HRD Minister for Science and Technology, Kapil Sibal clarified that the tablet which is priced at Rs 1,500 for students will receive a government subsidy of Rs 750, while the balance will have to be forked out by educational institutions; which would make the tablet "literally free" for the student community. The tablet will be priced at cost Rs 2,500 for others, as specified before.

Reports suggest that the government of Andhra Pradesh has sent a proposal to purchase 10,000 tablets for the state universities, engineering, and polytechnic colleges. Similarly, Mumbai University has also received requests for about 25,000 tablets from 90 colleges and other departments, under a scheme put forth by the HRD ministry for universities in the country.

This news should bring about some respite to the student community as the future of tablet has been under the cloud for a while now. After reports of the device being shelved and several performance issues, let us just hope the project sees the light of the day soon.
TAGS: Tablets, Education, Government, Android, Aakash, Kamakshi