LAVA Adds The Iris Pro 20 To Its Mid-Range Line-Up | TechTree.com
LAVA Adds The Iris Pro 20 To Its Mid-Range Line-Up
Brings the Iris Pro 30 experience with a lower price tag.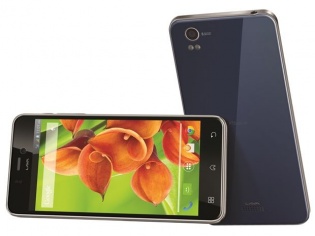 LAVA has been churning out quite a few phones lately. It was just last week that they launched their Iris 550Q phablet which was LAVA's first entry into the phablet market. Today, LAVA announces another mid-range phone, the Iris Pro 20; which is the affordable sibling of their best-selling Iris Pro 30 handset.
Keeping in the mind the 'Art meets Smart' philosophy which is how LAVA designed the Iris Pro 30, LAVA has designed one of the lightest phones in India—the Iris Pro 20. The device is very similar to the Iris Pro 30 in many aspects expect for the price, allowing LAVA to expand its reach, delivering the Iris Pro experience to more market segments.
The Iris Pro 20 sports a similar design and even similar specifications, except for that gorgeous 1280 X 720 pixel display from the Pro 30. The new Iris Pro 20 sports an equally stunning 4.7 inch qHD (960 x 540 pixel), fully laminated IPS display which guarantees a brighter and more vivid viewing experience. CABC (Content Adaptive backlight control) technology allows for better battery life while delivering a vibrant viewing experience in varied lighting situations. The fully laminated panel also adds to a better viewing experience by eliminating the air gaps between the LCD and the strong Gorilla 2 Glass, making the phone look perfectly black when in sleep mode.
Inside lies a 1.2 GHz quad-core MediaTek processor coupled with 1GB RAM and 4GB of internal memory, which is similar to what is found on the Iris Pro 30. Also included is the same sharp 8MP camera sensor from the Pro 30 which features Zero Shutter Lag, HDR and Panorama modes. Powering all of the above is a 2000mAh battery, which thanks to the CABC technology will deliver 400 hrs of standby time.
Priced at Rs. 13,999, the LAVA Iris Pro 20 will be available across retail stores throughout India and online soon. The only difference being the qHD display, we expected the price of the Iris Pro 20 to be a lot lower. This is keeping in mind that the LAVA Iris Pro 30 still sells for Rs 15,500.
So which one would you choose?

TAGS: Mobile Phones, Android, Lava