Spice Smart Flo Space Mi-354 Launched, Features Android 4.2 | TechTree.com
Spice Smart Flo Space Mi-354 Launched, Features Android 4.2
The smartphone with a 3.5" display is priced at less than Rs 4000 in India.
Less than 24 hours after Spice's 'Stylish' Stellar Glamor Mi-436 entry-level smartphone had been spotted, the company has now launched handset with another entry-level smartphone, the Spice Smart Flo Spice Mi 354. Like the Glamor, Spice's Smart Flo Space Mi-354 runs Android 4.2 (Jelly Bean), offers dual-SIM support, and even the Spice Cloud service. The Stellar Smart Flo Space Mi-354 is priced at Rs 3,800.
The key technical specifications of the Spice Stellar Smart Flo Space, according to an official press release:
3.5" display having 320x480 pixels.
Android 4.2 Jelly Bean operating system.
1 GHz dual-core processor.
Dual-SIM support (2G + 2G).
3 MP rear camera, 1.3 MP front snapper.
256 MB RAM.
512 MB internal storage.
MicroSD card slot with support for up to 32 GB.
Bluetooth 3.0, Wi-Fi, 2G, microUSB connectivity.
1450 mAh battery.
Watch out for a considerable lag in performance though, as the Android 4.2 platform generally requires 1 GB of RAM to ensure a fairly decent smartphone experience. The Spice Smart Stellar Smart Flo Space competes with Karbonn's A50, which is yet another entry-level smartphone priced at Rs 4,000. Karbonn's A50 runs the now-outdated Android 2.3 platform but has almost identical tech-specs as that of Spice's Smart Flo Space.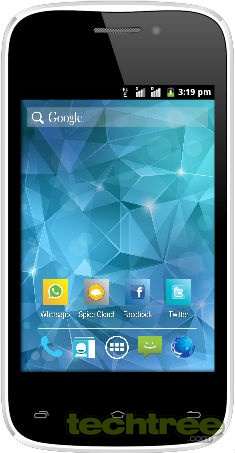 TAGS: Spice, Mobile Phones, Android, Multi-SIM