Google Street View Conquers Mount Fuji
Google's Trekker also lands at several more Japanese World heritage sites.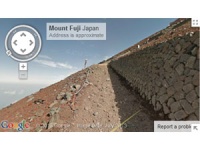 The guys at Google's Street View team seem to be enjoying the new heights that they've been scaling for a while now. After conquering Mount Everest, Burj Khalifa, and Eiffel Tower, Google's team has now reached Japan's tallest mountain Mount Fuji. The newly-declared UNESCO World Heritage Site has been greeted by the Street View Trekker. The official blog says that the 3,776 meter trek helped gather 360° panoramic imagery with 14,000 panos.
Apart from the virtual trek to the peak, you can look down without getting scared. And you can take your Japanese exploration further as other UNESCO World Heritage Sites such as Himeji Castle, the old village at Shirakawa-go, the floating Itsukushima shrine, the pine forests of Yakushima, the subtropical Ogasawara Islands, and the Hiroshima Peace Memorial have also been covered by the team.