Google Scales The Eiffel Tower | TechTree.com
Google Scales The Eiffel Tower
Takes Street View at the peak of the iconic monument to show off Paris.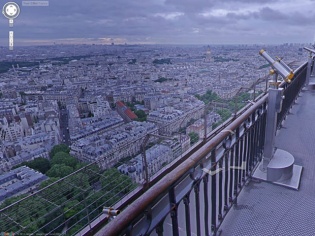 After giving us an aerial tour of Dubai from the Burj Khalifa, the Google Street View team has now moved over to the French capital, Paris. The Google guys have now scaled the "the most visited building of the world", the Eiffel Tower, to offer 360-degree panoramic views of the city. This feat was achieved using a trolley mounted camera.
Apart from the Street View, which you can visit from here, the Google Cultural Institute has tied up with the Eiffel Tower Operating Company to exhibit three online archives about the 124 year old monument. The exhibitions that details the entire history of the iconic tower features as many as 50 archival images, plans, engravings. In other news, Google started rolling out version 2.0 of its Maps app for iOS with iPad support, which is on the same lines as the Android update that was made available some time back.