Microsoft Build 2013: Windows 8.1 Previewed With Start Button And Boot To Desktop
Microsoft has also introduced a new user-interface in Windows 8.1, along with deeper Bing integration within the OS.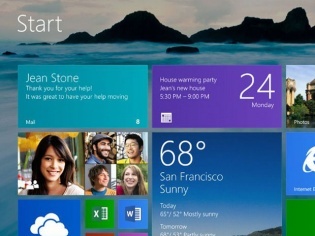 Microsoft's Windows 8.1 has been finally unwrapped at its Build Conference 2013 at San Francisco. The Preview version has been showcased in the Build 2013 keynote and as expected, Microsoft revived the "Start button" along with the "Boot to desktop" feature.
Apart from these, MS also provides an enhanced the Search feature. It now includes two major aspects — the Search Hero interface and deeper/enhanced Bing Search. With "Search Hero", all relevant content about a particular search query will appear, along with a Xbox Music compatible playlist. Basically, it is an enhanced version of the conventional web search, but filters out all content types related to that particular search query, and displays them in a separate Window. In the opening keynote, Steve Ballmer said that Bing is now built with emphasis on image-centric content. Search in Windows 8.1 also has options that allows users to filter out results by faces as well.
Various apps have also been added to both the Metro and desktop UIs, ranging from Health and Fitness to cookery apps. Check out the video below to know more: