Twitter May Already Have Native Google Glass App | TechTree.com
Twitter May Already Have Native Google Glass App
Google Glass is slated to reach users by the end of this year.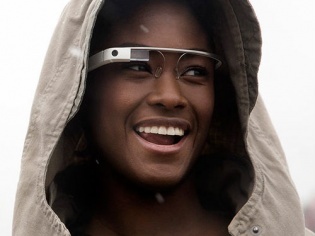 Recently, some technical specifications of Google Glass were made public. Some publications such as the New York Times have launched their own native apps for the Google Glass. With these apps, users of the Glass can get all the latest news right at their eyes (or maybe with the blink of an eye). In the midst of this, it seems that micro-blogging site Twitter is in the process of bringing out its own native app for Google Glass.

A TechCrunch report has hinted at a tweet reportedly sent via Twitter's Google Glass App. The tweet, now deleted incorporates a "Twitter For Glass" label, which serves as an indicator to its native app. But Twitter has so far not commented on this, so as of now the tweet can be considered as being "unofficial".

TechCrunch also refers to the comments made by John Doerr with regard to a project called Glass Initiative, where Doerr made discrete mentions about Twitter having an own app for Google's Glass. At this stage, we wonder as to how Google Glass users will use its app, since Twitter is primarily focused on textual aspects more than images. Also with the micro-blogging 140-character limit for tweets, Google Glass users would have to go out of the way to set up a readable tweet, as far as the present setup of Glass is concerned.

However, we cannot rule out the possibility of Google providing mechanized enhancements for users to send out tweets, or enabling users to dictate tweets onto Glass using voice recognition mechanism.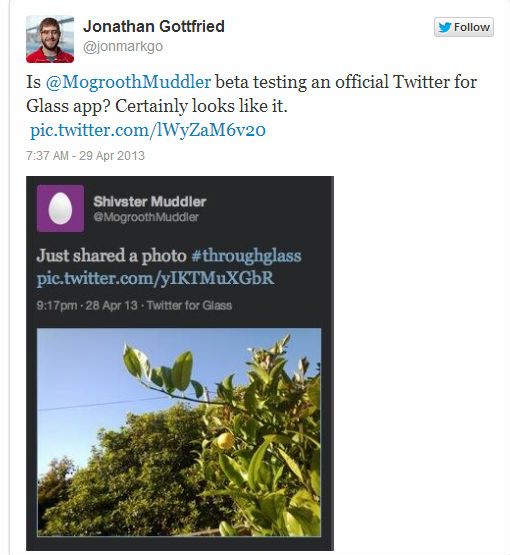 Screenshot of the now deleted Twitter app for Google Glass tweet (courtesy: TechCrunch)

It is strange though, that Google would let go of an opportunity such as this, to position their own Google+ social networking service with a first-mover advantage.