Google Glass Technical Specifications Now Official | TechTree.com
Google Glass Technical Specifications Now Official
Google Glass doesn't support 3G, and offers a slower Wi-Fi standard.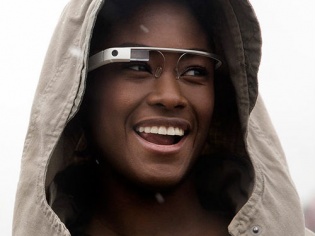 For people curious to know details of Google's "Project Glass", here's a bonanza. The internet giant has just released a list of official technical specifications that its Glass is expected to incorporate. Before we give you the full list of tech specs, let's run through the notable aspects among these specifications. We start with the 5MP camera with 720p video recording capability. This is quite impressive considering that Google Glass is a wearable device.

Another notable feature is Google Glass' 16GB internal memory (out of which 12GB is available to users). This seems quite "big" for a device like the Glass as the internal storage is comparable to an entry level Apple iPad (which comes with 16GB). Google also says its Glass would come with Wi-Fi connectivity support (802.11 b/g). And yes, you read it right - there is no information about the processor/GPU/RAM yet.

Here is a list of the other technical specifications of Google Glass:
High resolution display
Adjustable nosepads and durable frame fits any face
Bluetooth connectivity supported as well
Battery is said to support One full day of typical use
Compatibility with any Bluetooth capable phone
My Glass app enables users to use GPS and SMSA; My Glass companion app requires Android 4.0.3 (Ice Cream Sandwich) or higher.
Google Hangouts are supported by "Glass"
Micro USB cable and charger included
Bone Conduction Transducer audio technology (conduction of sound to the inner ear through the bones of the skull)
Google Glass is also expected to come with apps such as New York Times App and InSight, which Google unveiled recently. Although the pricing details of Google Glass aren't yet official at this stage, we can expect a "more than competitive" price tag for the device, considering the integration of tech specs and user functionality.

The effect of Google Glass on human health is unknown as of now. Considering the radiation fears that have been expressed, it would be good if Google released detailed information. Since Google is also an expert in online marketing, Google Glass users may also gladly be guinea pigs for Google's ads that even sync across devices and track aspects of users' lives.