Apps For Google Glass Showcased At SXSW | TechTree.com
Apps For Google Glass Showcased At SXSW
Google Glass can be integrated with apps, even reading out news to their users.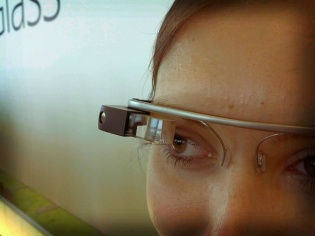 Google Glass, which hasn't yet been made available publicly, already has apps - showcased to people at the SXSW (South by Southwest) conference in Austin, Texas.

The New York Times App was one major application that was showcased. This app (although no details about its subscription being free/paid is available) apparently has the capability to instantly provide headlines of the latest news, if the user is searching for news stories, and provide images to users on just a single action.

Users need to just tap on the glass to get news that they like, read out to them by Google Glass, which is an intuitive concept. A "news by preferred byline" option will also be built-in. Along with the New York Times App, there was also Gmail, Google Now, Evernote, Path and various note-taking applications that are expected to make the experience of Google Glass users more fulfilling.

Google Glass is slated to hit markets by the end of the year, so Indian users may benefit from an app for integration with the Times Of India. Earlier in the event, Google showed off Talking Shoe that promises to nag its users about their health in public.

Another Google Glass app (although not showcased at SXSW), termed InSight is claimed to enable users find the people they know, with what they are wearing. This app is said to take into account elements about a person such as jewellery, clothing, to create a "fashion fingerprint" which enables Google Glass users to identify people.