Motorola DROID 4's Details Leaked
Looks like a Droid RAZR with a slide-out QWERTY keypad.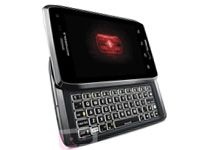 There are many QWERTY phones in the Android camp, but none of them have been positioned as a flagship. Motorola clearly wants to change this with its upcoming product, the DROID 4. Thanks to the guys at Droid-Life.com, it has been confirmed that Motorola's next offering will feature a slide-out keypad and pack in some serious firepower. On the basis of leaked press images, the new device looks similar to the DROID RAZR, except for its keypad and a smaller display. For the technically inclined, it will run on a dual-core 1.2 GHz CPU, while its 4" screen will be encased in Gorilla Glass. Other noteworthy specs include an 8 mp camera, LTE (3.9G) connectivity, an 1800 mAh battery, and 1 GB of RAM to handle multitasking. Those wanting Ice Cream Sandwich will have to wait though, as the phone will run Android 2.3 (Gingerbread) at the time of release. The device is expected to hit stores on 8th December in the US, and considering the Android craze in our country, shouldn't take too long to reach Indian shores.
TAGS: Mobile Phones, Android, Motorola, ck