Motorola Unveils the DROID RAZR | TechTree.com
Motorola Unveils the DROID RAZR
Claims to be the slimmest phone in the Android world.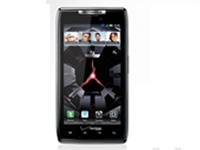 Motorola has announced its latest high-end smartphone, the DROID RAZR. Although it shares its name with the once-popular RAZR, the similarities end there. According to the company, at 7.1 mm, it's the thinnest smartphone in the world. Under the hood is a 1.2 GHz dual-core CPU and a gigabyte of RAM. It features a 4.3" Super AMOLED display with pixel dimensions of 540x960. Other bells and whistles include an 8 mp camera, 16 GB of onboard storage, a microSD card slot, Wi-Fi, Bluetooth, GPS, and an 1800 mAh battery.

Motorola claims that the phone's body is made of Kevlar fibre, which is supposed to be "very strong". Moreover, it's protected with a splash-proof coating, which means you no longer have to worry about coffee spills and sudden rains. The DROID RAZR is expected to hit the worldwide market by the end of November. However, pricing details haven't surfaced yet.