Facebook Introduces Poke App For iPhone | TechTree.com
Facebook Introduces Poke App For iPhone
Send fire-and-forget messages that self-destruct after a preset time.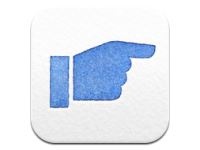 Facebook's new Poke app for iDevices acknowledges the need for "lightweight messages" — those that are relevant only for a short while. The Poke app lets you poke, or send a message, photo, or video to FB friends, specifying a time (1, 3, 5, or 10 seconds) after which it will disappear. The recipient must press and hold to see the poke in that time interval.
The main advantage here is that messages sent via the Poke app will not clutter a Facebook profile page. Also, they won't be available to be shared by others — which can actually be a great thing, considering the recent fracas that an innocent Facebook post seems to have caused.
You can't save a message sent this way, but you can take a screenshot — and the sender is notified about the screenshot event.
The standard Poke has been a feature of Facebook since 2004. Most users prefer to send a message rather than just poke, because in the browser version, the Poke doesn't support sending a message along. Its sole purpose is to call the attention of the recipient.
The new app works on the iPhone, iPod touch, and the iPad. There's no word yet on whether there will be versions for other mobile platforms.