Samsung Taunts iPhone 5 With Stinging Ad; Apple Fanboys Go Nuclear | TechTree.com
Samsung Taunts iPhone 5 With Stinging Ad; Apple Fanboys Go Nuclear
Korean giant compares its flagship smartphone with the new iOS handset; tweets "The Next Big Thing is already here".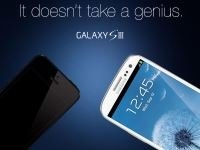 Samsung has tweeted a new ad that attempts to get back at its arch-nemesis Apple. Obviously incensed at its decisive legal defeat, the Korean electronics giant has presented a side-by-side feature comparison between the just-released iPhone 5 and its own GALAXY S III (GS3) to demonstrate its phone's technological superiority. The ad is titled "It doesn't take a genius", obviously targeting Apple's Genius Bar store employees. The company states emphatically on its US Twitter handle, "The Galaxy S III is packed with 4G LTE, a 4.8" screen, and so much more. It doesn't take a genius to choose The Next Big Thing". Another tweet with a comparison sheet of the handsets provides a one-sided view that expectedly tilts the balance heavily in the GS3's favour, mentioning pretty much every feature for its own device while listing only the main features of the iPhone 5.


Apple fanboys were quick to retort though, uploading a barrage of parodies that belittled the GS3, including a a point-by-point rebuttal. I'm sure that a Twitter flame war has just started and things are only going to get uglier. While there's no doubt that the iPhone 5 is technologically inferior to the GS3, better hardware and benchmarks do not necessarily mean a better smartphone. Rather, it is the user experience that counts the most, in which the iPhone certainly scores higher. What do you think? Sound off in the comments section.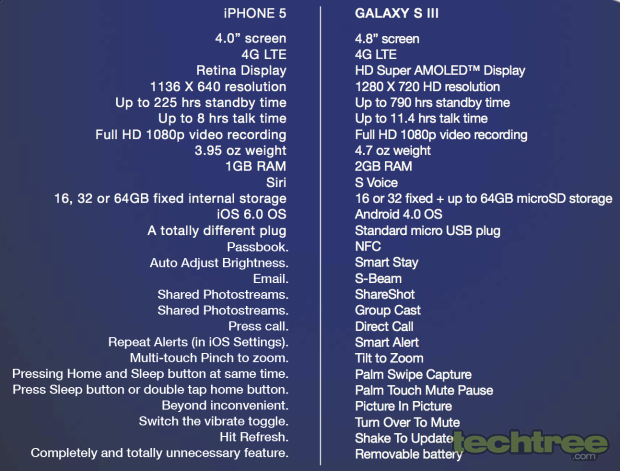 Rebuttal by Josh Cohen, Apple fanboy.