YouTube App Launched For iPhone
Excluded from iOS 6, Google's video-sharing service will remain available for iDevices.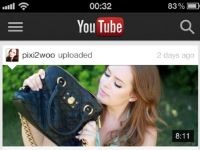 YouTube, the popular video-sharing service, has launched its first app on Apple's App Store in a move to counter its exclusion from devices based on iOS 6. Incidentally, this news comes close on heels of the iPhone 5 launch that is scheduled to take later today. The app is available for all versions of the iPhone starting from the 3GS, and also for the iPod touch and iPad. It sports all the features of the version bundled with Apple's devices, based on earlier versions of iOS — in addition to voice search, query autocomplete, and sharing on Facebook and Twitter. Users can also sign in to access their subscriptions, playlists, and uploads. A key difference is that this version has ads just like on the website. This will allow users to watch more popular videos — some major labels and publishers had steered clear of the bundled, ad-free app.
iOS 6 also replaced Google Maps with its own 3D mapping service in an attempt to distance itself from (and become less dependent on) Google's products. That, in turn, might stem from Apple's rivalry with the search giant's Android mobile OS, which now figures on more handsets worldwide than iOS does.
With the launch of the YouTube app, I don't think it'll be surprising to find a Google Maps app soon pop up on the App Store.