Amazon Will Set Pricing Standards... For Now
Kindle Fire HD Models Start At $199.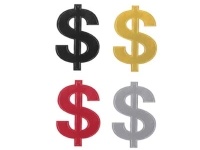 With price tags starting at $199, the new high-def Kindle Fire versions seem set to take on Apple's iPad in an all-out price war. The price of the entry-level Kindle has been brought down, too. In fact, the Kindle Fire HD will take on not just Apple, but also Google and Microsoft with their current and upcoming tablets.
This is one of the relatively few launches where the main talking point is price. At the launch, Amazon.com's CEO Jeff Bezos said the company might even make a loss with the Kindle Fire HD: "We want to make money when people use our devices, not when they buy our devices". In February, an ad by Amazon highlighted the fact that three Kindle Fire devices cost less than one iPad model at the time.
While the hardware is a significant improvement over earlier Kindle versions, Amazon's playing point is the idea that the purchase of a Kindle with lead to more purchases. A Kindle is tied to the Amazon.com shopping experience in the US and other countries, and it's not limited to e-books and movies. That reminds me of Bill Gates saying, in 2004, that hardware would soon be free. Which, in turn, reminds me of the expected launch of Microsoft's Surface RT: Will Amazon have changed perceptions and expectations of tablet prices by then?