Indian Govt Increases SMS Limit To 20 Per Day For Prepaid Users
Postpaid users can still send unlimited texts; restriction will expire on 31st August.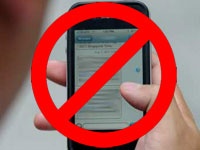 Due to the backlash from prepaid mobile users who have struggled to cope with the ban on bulk messaging, the government has decided to ease the five-SMS-per-day regulation with immediate effect, increasing the cap to 20 messages per day. The original restriction came into place on 17th August after the Assam riots resulted in rumours being spread via SMS about impending attacks on people from the eastern part of the country, which led to thousands of them fleeing from several cities back to their homes.
As per the revision, users can now send a maximum 20 SMSes in one day and MMSes of up to 20 KB of data at a time, till the ban ends on 31st August. On its decision to go easy on the rule, an official said, "The decision to relax the permissible limit was taken after reviewing need and response of users, specifically pre-paid mobile customers who had to face a lot of problems due to restrictions from telecom operators".
This order has affected only prepaid mobile customers, as operators had claimed it was impossible to implement the ceiling on postpaid customers, that too for such a short period. Looking at the way messaging junkies reacted to the ban though, it seems better sense has prevailed in the administration — for now. Whether this will extend to respecting freedom of speech on the internet is another matter altogether, but going by the government's latest actions, seems rather unlikely.
TAGS: Telecom, Security, Government, Kamakshi