Rumour: Apple Will Announce iPhone 5, Mini iPad On 12th September
New iPod nano also will be unveiled; official launch expected to be on 21st September.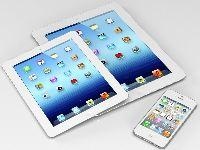 For all those looking forward to the next iteration of the iPhone, the wait will soon be over. Reports suggest that Apple will unveil the iPhone 5, along with the much-speculated iPad mini, at an event scheduled on 12th September. It has been further speculated that the handset will be released officially nine days later; that is on 21st September.
Sources also reveal that along with the announcement of the iPad mini, you can also expect news about a new iPod nano. While the launch dates for these two devices haven't been specified, they are expected to be announced alongside the iPhone. Earlier rumours have suggested that the handset will sport a larger 4.08" display with a 16:9 aspect ratio, a 19-pin port as opposed to its regular 30-pin connector, 3D Facetime, and a unibody design.
Looking at what iOS 6 has to offer, we can expect Siri and deep Facebook integration as well. Apple fanboys will surely be happy to have a date to mark on their iCalendars.
TAGS: Mobile Phones, Tablets, Media Players, Apple, iPhone, iPad, iPod, Kamakshi