Is Apple Working On A Snapchat Like App? | TechTree.com
Is Apple Working On A Snapchat Like App?
Rumored to be working on a video sharing app to cash in on the popularity of social networking apps.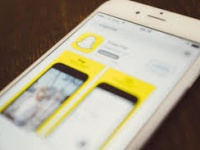 Snapchat needs to buckle up, after Instagram stunned users with its latest update 'Stories', now as per reports tech giant Apple is said to be working on a video sharing app. According to a report published by Bloomberg, Apple is developing a video sharing app mirroring Snapchat features. Users can record video, apply filters and send to those on their contacts or can send it to their followers through other social networking sites such as Twitter. The report also claims that the company is keen on developing the app to enable users to shoot, edit and upload videos in less than a minute.
The app is said to be launched next year. This is however not the first attempt by Apple to foray into social networking. Six years ago Apple launched a service called iTunes Ping, described by Steve Jobs as "Facebook and Twitter meet iTunes"which was discontinued on September 2012. Reports suggest that since Apple's sales have dipped, the company is focused on minting money off social networking.
Ironically, Snapchat's popularity might even be the cause of its doom! Since people all over have been addicted to using Snapchat, social networking rivals Facebook, Instagram and Twitter began to panic. Facebook owned Instagram pulled of a Snapchat rip off feature and called it "Stories". Twitter didn't back down either, the micro-blogging site made their "Moments" feature public. Now Apple is said to be working on a similar app. What would the future hold for Snapchat? Only time will tell.
TAGS: Apple, Instagram, Snapchat, Twitter, Social Networking Apps