Asus ZenWatch 3 To Launch On Aug 31 | TechTree.com
Asus ZenWatch 3 To Launch On Aug 31
The latest smartwatch by Asus, dubbed the ZenWatch 3 is expected to sport a new form factor, according to the details available to the media, via twitter.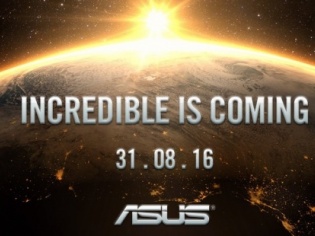 Asus seems to be all set to launch the ZenWatch 3 on Aug 31, according to a new teaser by the company, revealed on Twitter. The new generation smartwatch, is expected to have a new form factor, and might be round in shape.
Like the previous edition, ZenWatch 3 is perhaps one of the more feature rich smartwatches in the market, vis-a-vis it's price. However, more details will be known only after the official release.
The teaser on Twitter had mentioned that, 'Incredible is coming' and also included the date of August 31, 2016 and the IFA 2016 hashtag. However, one could also be expecting a smartphone, tablet, or a laptop at the IFA 2016 event, but just like the ZenWatch 3 launch, it remains under speculative information as to what might come on the day, though ZenWatch 3 is the most probable product that could be released, as reported by NDTV.
In-fact, ZenWatch 3 images were leaked on Chinese website ePrice, along with its accessories. However previously, the ZenWatch 2 was launched at the IFA trade show in two variants with display resolutions of 320x320 pixels and 280x280 pixels.
The watch was launched with an Amoled display, alongside a 2.5D curved Corning Gorilla Glass 3 on the dial, adding to the durability and resistance factor of the device. The smartwatch was then launched at a price point beginning at Rs. 11,999 in India, but what the latest edition will bring, remains to be seen, as most details have been withheld.
Another interesting aspect would be to witness the launch of the rival Samsung Gear S3, as revealed by Pocket Lint. With the date clash with Asus, it is stated to be a battle for who makes the bigger impact, as the IFA 2016 takes place from September 2 to September 7, again a very crucial timeline for gaining market visibility.
TAGS: smartwatch, Asus, Asus ZenWatch 3