The Snazzy Asus Zenwatch 2 | TechTree.com
The Snazzy Asus Zenwatch 2
Oodles of cool on your wrist for Rs 12k
Rating

4
/5
15th Feb 2016
Pros:
Compelling price, Great looking gadget, Works smoothly, IP67 certified for water resistance
Cons:
Too much bezel around the display, No heart rate sensor
No, I would not say no to an Asus ZenWatch. And certainly not to a rose-gold ZenWatch 2 with a beige-grey leather strap. Or a steel one with a blue strap.
It looks good on my wrist, even if I say so myself, and while either men or women could wear both the sizes available, the smaller one (Rs 11,999) is definitely the one for me. In fact, I think most people will prefer it to the larger one (Rs 14,999).
The ZenWatch 2 isn't a big fat chunk of a smartwatch but a nice mid-sized one that looks very cool. It isn't round, like my MOTO 360 or the Samsung Gear S2, two of the other major smartwatches that are also available in India right now. Instead, it's a rectangle with somewhat rounded corners and it feels just fine when worn. Not in any way heavy or unnatural but just like it's exactly where it should be when you wear it.
There are a few different versions of the watch available -- the usual black, steel, and gold. And strap options in rubber, steel, leather. Typically, you don't get these options easily online in India. But maybe, in time…
The leather strap on the ZenWatch 2 is thicker than my MOTO 360's. It feels more durable and stiffer, without being in the least bit uncomfortable. It's got lots of slots so I was able to get it to fit very well on my wrist. The straps are easily swappable -- if you can only get enough extra straps to swap. The glass on the watch is very slightly curved-looking, giving the watch an even cooler look. It's IP67 rated, so you can get it a little wet, though you might spoil the leather strap in the bargain.
Getting past the look of the ZenWatch 2, on the inside it's a full-fledged Android Wear gadget -- as it has to be, since Google isn't allowing much tinkering around at this point. You have to connect it to your phone and get the Android Wear app and the Asus ZenWatch Manager which is full of watch faces, bits of customization and apps. That, and fitness tracking, is what smartwatches are really all about right now. You can also do all sorts of Google things like search, check the weather if you don't want to look out the window and get notifications which then mean you don't have to pull out your phone.
The watch runs pretty smoothly. An Android Wear update should be coming soon and will bring more functions. Of the two variants of this watch, the AMOLED display on the larger W1501Q has a 1.63-inch, 320x320 pixel screen and density of 278ppi, while the smaller W1502Q has a 1.45-inch, 280x280 pixel screen with a 273ppi density.
You can change the font size and play with watch faces -- half the fun of a smartwatch. It works with a Qualcomm Snapdragon 400 processor and 512MB of RAM. There's 4GB of storage on it. No, it doesn't take calls or have a camera of its own.
The battery is a 300mAh and really, all you can hope to get out of these watches right now is about a day's worth of juice. If you use it very lightly with the screen off, then you go over to the next day but then you're stuck with charging it in the daytime. Much better to just accept that it must be charged overnight.
The ZenWatch has a unique charging method. A cable and contact sticks to the back of the watch magnetically. You have to make sure the watch isn't moved around then because the contact can drop away quite easily.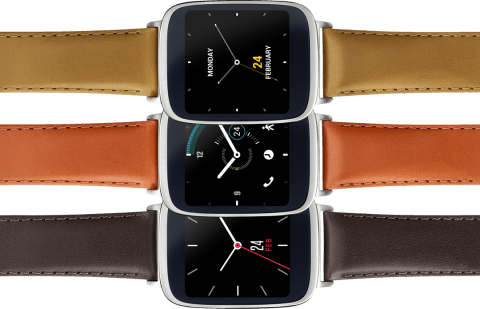 ZenWatch 2 leather strap feels sturdy and is easily swappable -- if you can only get extra straps to swap
This watch doesn't have a heart rate sensor, so if you're a big self-quantifier, you'll have to do without. But as to all the rest, it's cool, especially, I think, on a woman's wrist.
Lila Ray is a corporate consultant who likes her gadgets almost more than her shoes. Write to her at [email protected]
TAGS: ASUS ZenWatch