Google Duo: Now Official With End-To-End Encryption | TechTree.com
Google Duo: Now Official With End-To-End Encryption
The app comes with a unique feature, Knock Knock, that allows users to see live video of the caller befor they answer.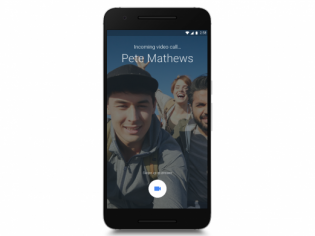 Remember Google Duo, a video calling app that we had reported about in May, this year? Well, it's official now... and you can download it via Google Play Store.
Google has announced the launch of its calling app Google Duo — a simple 1-to-1 video calling app available for Android and iOS. In short, the new video calling app takes the complexity out of video calling, so that you can be together in the moment wherever you are.
Speaking about the app, it is quite simple to operate. All you need is a phoned number and you'll be able to reach people in your phone's contacts list across device types and platforms. No separate account is required, so you can sign up and start calling in just a few taps. From there, you can instantly begin a video call with a single tap. The roll out of Duo for Android and iOS starts today, Aug 16, and it will be live worldwide in the next few days.
The unique feature of Knock Knock in Duo is designed to be fun and inviting. It allows people to see live video of the caller before they answer, giving you a sense of what they're up to and why they want to chat. Knock Knock makes video calling more spontaneous and welcoming, helping users connect with the person even before they even pick up.
"Video calling is the next best thing to being with someone in person. We have designed the interface to be simple, easy and welcoming. In places like India, it has been designed to adapt to the network connectivity conditions. We hope to make the experience of video calling more personal, inviting easy and smooth", said Amit Fulay, Group Product Manager, Google.
The new video calling app is also well secured with company taking care of all privacy issues and end-to-end encryption during all Duo calls.
Recommended:
TAGS: Google, Google Duo, Video Calling App