iOS 10 Beta 2 Locks Users Out Of Their Apple IDs
This glitch has been commonly reported by users with two-step authentication security.
After iOS 10 beta 2 was made available to the public, complaints have been pouring on Reddit stating that users have been locked out of their Apple ID accounts. The bug has been largely reported by Apple users with two-step authentication security, reports The Times of India (TOI).
The report also states that though there is an option to unlock users' accounts, a 'server error' message pops up when tried to do so.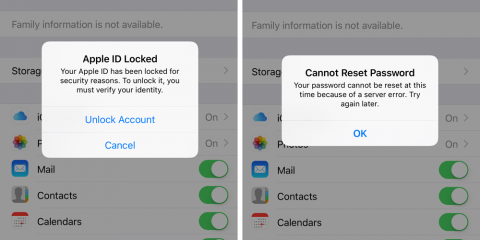 Image via 9to5mac
Also, Digital Trends has reported recently that a few Apple users are getting iForgot page when they actually try resetting their passwords. A message appears on the page that reads, "Your request could not be completed at this time."
Also Read: Apple iOS 10: A Refreshing Change
This glitch, though seems easy in words, is definitely creating a very difficult situation to most Apple users. Especially when users are contacting Apple Support's twitter handle, the company has been refusing to serve any help in resetting the account as the users have activated the two-step authentication.
Well, you may switch off the two-step authentication until the problem is actually resolved, suggests a few users, according to TOI.
What ever it may be, unless and until the bug has been resolved Apple users with two-step authentication seem to have quite a tough time now. Hoping for the best.
Recommended:
Bid Adieu To Storage Woes With iOS 10
iOS 10 Could Make A Lot Of iPads Obsolete
TAGS: Apple iOS 10, iOS 10 Features