Review: Nokia 206
If Nokia's Mallakhamb Rock ads have caught your attention, here's everything you need to know about the phone that features in those.
Rating

3.5
/5
02nd Apr 2013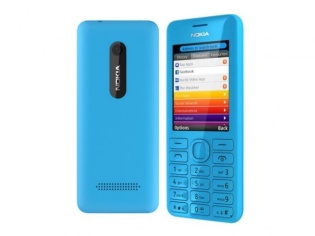 Pros:
Compact and sturdy build; Hot-swappable external SIM slot; Easy to use interface; Well priced.
Cons:
Lacks USB port; No 3G or Wifi; No WhatsApp support; Tad too glossy.
Nokia 206
MRP: Rs 3850
Street Price: Rs 3600

When you think about the good old candybar phones, nothing has been as popular as the Nokia 3310. With countless memes doing rounds over the internet, it could easily pass off as the Rajnikant of the mobile world. And the latest Nokia 206 can be termed as a refined version of the decade old legend from the Finnish giant. To sustain its relevance in today's times though, the 206 packs in basic multimedia and SNS support. Does it qualify as a worthy successor? Let's get into specifics of its design and features.

Design And Build Quality
With the 206, Nokia brings back the retro candybar design with a dash of bold colours such as Cyan, Magenta, and Yellow. For people who prefer sober shades, it's also available in White and Black. Similar to the Asha 205, this phone offers excellent build quality. The phone is compact and fits in your hand well. The Lumia-esque metal stripe around the camera lens is a nice touch. That being said, the glossy finish on the front looks a little tacky.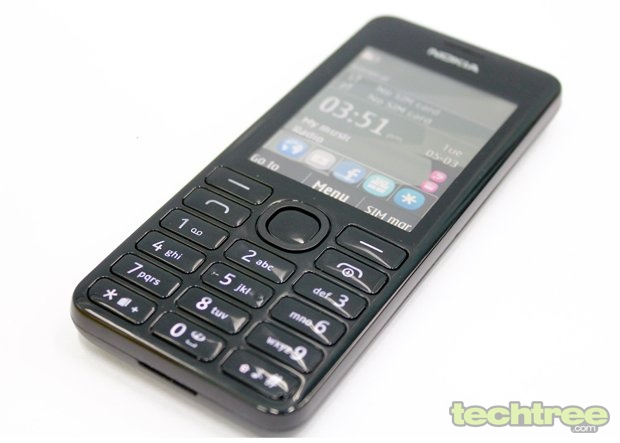 The navigation is based around a D-pad, which is reminiscent of the N-series handsets. The phone's alpha-numeric keypad offers proper tactile response. The keypad backlight is evenly distributed and sharp. In a nutshell, the 206 is sturdy handset with good looks.




Display And Specs
The handset's 2.4" screen has pixel dimensions of 240x320. For the price it commands, the phone's display is bright and offers decent colours reproduction. Unlike the other low-end Nokia phones though this one comes with an option to adjust screen brightness.
The 206 comes with 64 MB of internal storage and microSD card slot, which supports up to 32 GB. It features a 1.3MP camera, charger plug, 3.5 mm jack, Bluetooth 2.1, FM radio, and 1100 mAh battery. Out of its two SIM-card slots, one is hot-swappable and is placed on the device's right side. To access the microSD card slot though, you'll have to remove the back cover. Thankfully, unlike the Asha 205, the memory card slot is not placed under the battery. On the flip side the phone lacks a micro-USB port, which means you'll have to use a memory card reader to transfer media to and from this phone. Complete specifications can be found at the end of the review.

UI And Performance
The 206's UI elements look exactly like what we've seen on the old Symbian Series 60 phones such as the N78, N79, and N82. But don't let that fool you: The phone is based Nokia's Series 40 platform, which isn't a smartphone OS and does not support proper multitasking. However, you can at least minimise the music player and perform other tasks such as sending a message or browsing the internet.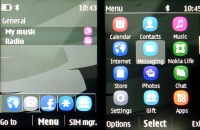 The interface is clean and easy to get along with. It offers some level of customisations such as setting up a wallpaper or theme of your choice. You can add up to three widgets to the home screen, and you can customise the Menu view. The 206 is one of the first phones from Nokia Nokia to feature Slam. As mentioned in Asha 205's review, this feature can be used for sending files to the closest device over Bluetooth.
Coming to the subject of apps, the phone comes pre-installed with Facebook, Twitter, eBuddy, Viber, and Midnight Pool 3. Additional apps can be downloaded from the Nokia Store. Nokia's Xpress browser compresses data to speed up the browsing and cut down your GPRS usage. WhatsApp is only available in the handset's single-SIM variant, which is unfortunately not available in India.
The phone is a dual-SIM dual-standby handset, which means if you're busy on a call, your other SIM will be unavailable for that duration. The phone offers a SIM management menu for you to specify which SIM handles what tasks. The phone's network reception and call quality were excellent during the tests.

Multimedia
The phone's sound quality is just about ok. The music player supports MP3, WMA, WAV, and AAC audio formats. FM radio is present and packs in a recording feature. Like any entry-level phone, this one only supports low bit-rate 3GP and MP4 files. The 1.3 megapixel camera lacks flash, and its image quality is nothing worth singing hymns about.

Battery And Verdict
On a full charge, the phone's 1100 mAh battery easily lasts for over two days of standard usage. This is good for a handset that sports dual GSM SIMs.
The Nokia 206 is priced at Rs 3600. The phone is compact and perfect for basic tasks such as calls and SMS. What separates it from a horde of low-cost phones is its sturdy build and sleek design. While the addition of a USB-port and 3G connectivity would have made it better, it still is a very good device for what you pay for.
In this price segment, you can also consider the X2-02 that comes with a slightly better 2 megapixel camera. Micromax's X279 is another cheaper option, but only if you're ready to compromise on the handsets build quality for a few extra features.


Features: 3.5/5
Design And Build Quality: 4/5
Performance: 3.5/5
Value For Money: 4/5
Mojo: 3.5/5
Overall Rating: 3.5/5

Specifications:
2.4 inch LCD QVGA with 320x240 pixels.
Dual SIM support ( GSM+GSM).
1.3MP camera that supports video recording.
2G Network connectivity support along with GPRS, EDGE; Bluetooth 2.1.
64MB internal memory, SD card support upto 32GB.
FM Radio with recording option.
3.5mm audio jack.
Weight: 91 grammes.
5-way scrolling keys.
TAGS: Mobile Phones, Series 40, Nokia