MWC 2012: Huawei Announces "World's Fastest Phone"
In-house quad-core CPU-based handset is slated for an April release.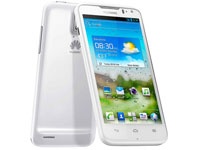 Chinese mobile manufacturer Huawei has staked its claim to have made the world's fastest smartphone, the Ascend D quad. While announcing the handset, company Chairman Richard Yu said, "We are proud to introduce a world first at the 2012 Mobile World Congress with the Ascend D quad, the fastest smartphone".

The gadget is among the first phones to be powered by a quad-core processor. At the same time, contrary to expectations, it claims to have 30% longer battery life than the industry average. Background noise cancelling during voice calls and a Dolby Surround Sound system are some of the other features that the phone boasts of. The Android 4.0 (Ice Cream Sandwich) device will be powered by Huawei's own quad-core K3V2 processor clocked at 1.2 GHz. It will come with a 4.5" HD screen with pixel dimensions of 1280x720. This will result in a pixel density of 330 ppi, equivalent to the Apple iPhone 4S's 326 ppi Retina Display. Additionally, it sports an 8 mp camera with BSI sensor capable of 1080p video capture, as well as a 1.3 mp front camera. The body of the phone is just 8.9 mm thick and houses an 1800 mAh battery.
Huawei will also launch two multi-core variants of this phone, known as the Ascend D quad XL and Ascend D1. While the former will be slightly thicker than the Ascend D quad at 10.9 mm due to a larger 2500 mAh battery, giving it a claimed battery life of 2-3 days, the latter will have a 1670 mAh battery. While the D quad XL will have the same specs as the D quad, the D1 has less powerful hardware in the form of a dual-core 1.5 GHz processor.

Slated to be launched in April, the company has not yet decided on the pricing of the Ascend D quad, although it will be "15% more competitive than others of the same class", according to Yu. From being an OEM manufacturer to creating its own design, Huawei has come a long way. April is just around the corner, so we will not have to wait for long to find out if this phone brings to the table what it claims on paper.