Vodafone Intros 3G Android Smartphone At Rs 5000
Targets the youth segment with an enticing price.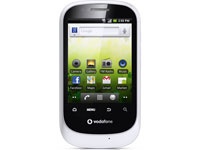 Telecom operator Vodafone has launched in India a new 3G handset under its brand name, the 858 Smart or simply Smart. The Android 2.2 (Froyo) handset is powered by Qualcomm's Snapdragon S1 processor, and although the speed is not mentioned, this is supposed to be a fast new entry-level processor. The company is focusing more on mobile apps, games, internet, and mobile social networking, so we expect this to be backed up by a decently fast processor.

The phone comes with a 2.8" QVGA capacitive touch screen, 2 MP camera, A-GPS, Bluetooth 2.1, FM radio, and a free 2 GB microSD card. Memory is expandable up to 32 GB. In addition to 3G, it also supports Wi-Fi connectivity. Subscribers will be able to take advantage of a special introductory offer of Double Data Benefit on their 3G subscription.

The Vodafone Smart is smartly priced at just Rs 5000, which puts it within easy reach of the youth segment it targets.


TAGS: Mobile Phones, Vodafone, Android, Jayesh