CES 2013: Corning To Launch Gorilla Glass 3
Another innovation expected at CES 2013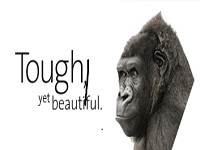 Corning Gorilla Glass 3 is all set to be unveiled at the CES 2013, which is currently underway at Las Vegas.

The Gorilla Glass 3 incorporates a new technology, called Native Damage Resistance, which is touted as the enhancement over earlier versions. With the Native Damage Resistance, the cracking of screens is expected to reduce to a great extent. "As a world leader in glass innovation, we are dedicated to meeting the needs of our customers with our product innovation", stated James R Steiner, Senior Vice President and General Manager of Corning Speciality Materials.

A demonstration that will depict the usefulness of the Gorilla Glass 3 with Native Resistance is expected to be showcased in detail at CES.

The Gorilla Glass has been featured as a protector (cover glass) on various mobile devices and has proved to be a runaway hit so far. Reportedly, the Gorilla Glass has been featured on approximately 1 billion gadets as of now. The protector has seen two earlier versions viz Gorilla Glass 1 and Gorilla Glass 2.

Even tougher screens or just another version? We will have to wait for the launch to know the specific benefits of the Native Damage resistance feature.
[Also read: TechTree's brief explanation of why CES is a big deal in the world of tech]
TAGS: CES, Mobile Phones, Tablets, Rahul