Nokia 206 Feature Phone Offers Nokia Snap Sharing And "Intelligent Imaging"
Like the Nokia Asha 205, comes in single- and dual-SIM variants.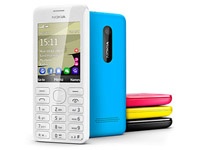 Soon after the launch of the Nokia Asha 205, Nokia added another feature phone to its line-up: The Nokia 206. Like the Asha 205, the Nokia 206 also comes in single SIM and dual SIM variants, but features a slightly better 1.3 mp camera with video recording in QCIF (176 x 144). Along with the Slam sharing feature (for sharing files over Bluetooth without pairing), the phone features "intelligent imaging." This informs you when self-portraits are in focus, after which you can take a sequence of shots and choose the best one. The camera features the option to automatically resize pictures to around 700 KB for faster uploading and sharing.
Here are the detailed specifications of the Nokia 206:
Series 40.
GSM 850/1900.
2.4", 65k colour 320x240 QVGA TFT display.
1.3 mp camera with QCIF resolution video capture.
Up to 10 MB free user memory; up to 32 GB via microSD card.
GPRS/EDGE, 2.0 mm charger connector, Bluetooth v2.1 with EDR, 3.5 mm AV connector.
Preinstalled apps: Facebook, WhatsApp (single SIM version only), eBuddy, Nokia Xpress Browser, Nokia Life.
Available colours: Cyan, Back, White, Magenta, Yellow.
Dimensions: 4.56" (h) x 1.95" (w) x 0.48" (d), weighs 91 grams
47 days standby with up to 20 hours talk-time
The Nokia 206 Dual SIM has a slightly lower standby time (25 days versus 47 days of standby). As you'd expect, it features Easy Swap technology, which gives access to a SIM slot on the side of the phone — so you can switch SIMs without powering off the phone. When you buy a Nokia 206, you'll receive a gift pack of ten premium entertainment titles, free to download. Both variants will cost $62 (Rs 3500).
TAGS: Mobile Phones, Multi-SIM, Nokia, Asha, Swagatam