Android 4.1 WickedLeak Wammy Desire Tablet With 7" Screen Available For Preorder At Rs 6800
Sports a 1.3 mp front camera, 8 GB storage, Wi-Fi, 3G dongle support, and 3000 mAh battery; will ship from 14th October.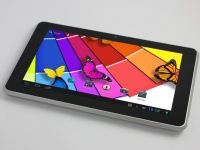 WickedLeak has announced the Wammy Desire, which runs Android 4.1 (Jelly Bean) and is powered by a 1.5 GHz dual-core CPU, a Mali-400 GPU, and 1 GB of RAM. It sports a 7" capacitive 5-point touchscreen with pixel dimensions of 800x480. The device comes with 8 GB of internal storage that can be augmented using a 32 GB microSD card. A 3000 mAh battery promises up to 6 hours of browsing or video playback. The device measures 7.5" (l) x 4.8" (w) x 0.4" (9.9 mm) (d) and tips the scales at 343 grammes. With similar dimensions and screen sizes, this makes it slightly lighter than the recently launched Winknet Wonder TWY100, which is a higher-priced ICS tablet. Here are the detailed specifications:
Android 4.1 (Jelly Bean) with support for Google Play.
7", 5-point capacitive multi-touch screen with pixel dimensions of 800x480.
1.5 GHz Cortex-A9 dual-core CPU, Mali-400 quad-core GPU, 1 GB DDR3 RAM.
8 GB internal storage, 32 GB microSD card slot.
Wi-Fi, USB 2.0 with support for OTG and 3G dongles, Bluetooth not supported.
1.3 megapixel front-facing camera.
Full HD (1080p) HDMI-Out, Orientation sensor.
Video Formats: MPEG-1 \ 2\ 4, H.263, H.264, AVS, VC-1, RV, VP6 \ VP8, Sorenson Spark, MVC.
Audio Formats: MP3, WMA, WAV, APE, FLAC.
3000 mAh Li-ion battery with 6 hours of browsing or video playback.
7.5" (l) x 4.8" (w) x 0.4" (9.9 mm) (d), 343 grammes.
USB OTG support means you can connect USB accessories such as a keyboard, mouse, and mass storage devices, just like you would with a PC. HDMI-Out allows the user to connect the device to a larger display device with Full HD (1080p) output. Adobe Flash 11.x is supported, meaning that you should be able to easily watch most streaming online video content. Google Play allows you to install free and paid apps and games from the online store. Pre-loaded games include Hero Of Sparta, Nova, Gun Bros, and Spiderman. The only major feature absent is Bluetooth.
The WickedLeak Wammy Desire is available for pre-order from today for Rs 6800, and will start shipping from 14th October. It has been mentioned that early orders will receive a free gift, although no details have been specified. With Jelly Bean on board, at its current pricing and features, this tablet looks like a good buy — although a final verdict will have to wait for a review.