Android 4.0 Based UbiSlate Tablet Range With 7" Screens Launched By Datawind; Starts At Rs 3000
Four variants offer choice of resistive or capacitive screens, as well as optional 2G SIM with voice calling.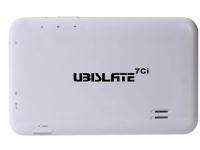 The UbiSlate tablet (an enhanced version of the Aakash) is back in the news, and this time it has multiple models to show off. A press release from the company has stated that Datawind has launched four different variations with resistive or capacitive screens and optional GSM 2G SIM with phone functionality. Tablets with an R in the model number have a resistive screen, while the capacitive screen is denoted by a C. Wi-Fi-only versions have an i, while those with a SIM have a + at the end. Thus, the UbiSlate 7Ri has a resistive screen and Wi-Fi, while the 7C+ has a capacitive screen, Wi-Fi, and SIM slot. All four tablets share common features such as Android 4.0 (Ice Cream Sandwich), a 7" screen, front 0.3 mp camera, and 4 GB of internal storage, which can be expanded via a 32 GB microSD slot. Here is the specifications sheet provided along with the PR e-mail:
HD video playback has been mentioned as a possibility and the 1 GHz CPU can certainly handle this task, although none of them have an HDMI-Out port to take the action to a bigger screen. The release document states that the SIM-enabled tablets can be used to make calls, in addition to accessing the internet via GPRS for Rs 100 per month. Non-SIM slates can make use of external USB dongles for web connectivity. Datawind boasts of its own UbiSurfer browser that claims to compress data up to 30x, resulting in faster surfing and reduced data usage. The tablets are priced from Rs 3000 to Rs 4500 depending on the features, and although pricing for individual models has not been mentioned, it's obvious that the UbiSlate 7Ri will be the cheapest, with the 7C+ being the most expensive of the lot.

The tablet maker has been mired in controversy for some time now, with shipments having been greatly delayed despite pre-order payments made months in advance. Now that the tablets are out, and with CEO Suneet Singh Tuli having declared that "deliveries have started", let's hope that the wait for India's cheapest tablet is finally over. Do you plan to order one of these slates, given the manufacturer's abysmal track record thus far? Let us know in the comments.