Google Doodle Celebrates American Aviatrix Amelia Earhart's 115th Birthday
Search giant's logo appears painted underneath the Lockheed Vega 5B aircraft used in her 1932 transatlantic flight.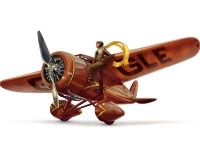 Today is the 115th birthday of the famous American female aviator, Amelia Earhart. Google is celebrating the day by displaying a special doodle showing its logo painted underneath the wings of the Lockheed Vega 5B airplane used by Earhart in her 1932 maiden transatlantic flight, successfully completed on 22nd May. After several other aviation firsts, Earhart's plane was lost over the Pacific Ocean on 3rd July 1937, during the final stages of her global circumnavigation attempt. The remains of the crashed aircraft were never found. The mystery over her disappearance continues to this day, with several theories abounding.
Born in 1897, Amelia Earhart got hooked onto flying in 1920, when she flew with aviator Frank Hawks for 10 minutes at an air show. It was not long before she began training under Anita 'Neta' Snook, a pioneering female aviator who groomed her to become the 16th woman to be issued a pilot's licence. Inspired by Charles Lindbergh's record flight across the Atlantic in 1927, Amelia decided to attempt a similar transatlantic flight in 1928 from Newfoundland (now part of Canada) to Wales in the UK, although she was essentially a passenger on this flight. Shortly after, she went on to become the first woman to fly solo across the North American continent, in August 1928.
Earhart continued to hone her skills as a pilot, competing in professional air races and attempting various long-haul flights. On 22nd May 1932, she became the first woman to fly solo across the Atlantic Ocean, from Newfoundland to Culmore in Northern Ireland. Not content with what she had already achieved, Amelia set her sights on circumnavigating the globe, taking off on 1st June 1937 from Miami in the US, after an earlier failed attempt. Details are sketchy about what went wrong when they departed from Lae in New Guinea on 2nd July enroute to Howland Island, situated between Australia and Hawaii. What is known that the radio communication was problematic, and the maps provided to them were inaccurate (GPS wasn't invented back then). The aircraft was lost over the Pacific Ocean on the morning of the next day, never to be found again. Due to her pioneering achievements, support for women's advancement in aviation, and her tragic death, Amelia Earhart has captured the imagination of millions, becoming one of the most famous pilots of all time. Check out the video documentary below to know more about her life: