Lava Announces World's First Intel-Powered Smartphone In India For Rs 22,000
Running Android 2.3, with a 4" screen and 8 MP camera, the XOLO X900 will be available from 23rd April.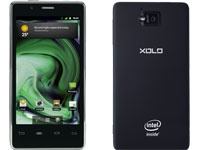 Lava has announced the world's first smartphone with an Intel processor inside, which is slated to be available from 23rd April. The XOLO X900 will run on Android Gingerbread sport a 1.6 GHz Atom Z2460 CPU along with a 400 MHz GPU. Instead of going multi-core, Intel has used Hyper Threading Technology to simulate the same, though in our experience, it cannot be as good as the real thing. Equipped with a 4.03" screen with pixel dimensions of 1024x600, it will feature an 8 MP camera with LED flash that is capable of 1080p@30 fps recording with a burst speed of 15 fps, NFC, and HDMI. The 1460 mAh battery claims to give up to 7.8 hours up time with 3G, and 15.5 with 2G, while video playback time is 6 hours. Lava has assured that the phone will receive an OTA ICS update soon. The XOLO X900 will be available at Croma and at Xolo.in. It will also hit other retail outlets from early May.
Intel had tried to get into the mobile phone segment with LG in 2010, but it was a failure. That is probably why it is trying to test waters by partnering with a brand that is not widely known around the world, although it is well-known in India. Announcements of other Intel-powered smartphones from better-known brands including Motorola Mobility and Lenovo are also around the corner as these partnerships were announced during MWC 2012. Intel has been one of the most successful semiconductor companies in the computing segment, and although there are apprehensions, we will find out in the coming months if it can make it big in this lucrative mobile computing market.
TAGS: Mobile Phones, Android, Lava, Intel, Jayesh