Surface Hub Is Microsoft's 84-Inch Digital Whiteboard
Targeted at corporates, this device boasts of a 4K screen with 100 point precision touch.
In addition to the new software, Microsoft had a few new gadgets to show off. One peculiar thing to grab our attention was the Surface Hub. It's a gigantic 84-inch tablet (or perhaps a table) that runs Windows 10.
The Surface Hub is a product from Microsoft's Perceptive Pixel division. Founded in 2006 by Jeff Han, Perceptive Pixel was acquired by Microsoft in 2012. The Surface Hub is meant for the corporate market. Basically, I see it as a digital whiteboard. With a 4K screen, 100 point precision touch, pressure sensing stylus, and Office software, Surface Hub shall help your company's leadership team brainstorm. However, Microsoft cannot guarantee productive meetings, as that requires humans to perform. The Surface Hub also features an array of sensors, HDMI, Wi-Fi, NFC, mic, speakers, and webcam.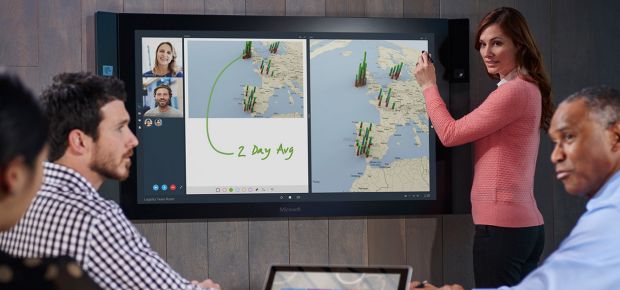 The Surface Hub will connect to multiple devices, so that participants can push and modify the content from their phone or PC.
Along with the 84-inch version, Surface Hub also comes in a 55-inch HD variant. Both come with flexible mounting configurations.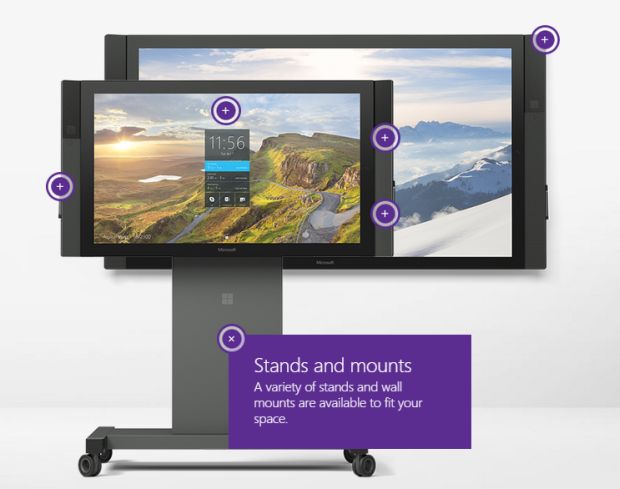 Microsoft hasn't announced the retail price of the device, but one thing for sure that it is going to be expensive.