Microsoft Unites Phones, Tablets, And Desktops With Windows 10 | TechTree.com
Microsoft Unites Phones, Tablets, And Desktops With Windows 10
The OS will be free for Windows 7, Windows 8.1 and Windows Phone 8.1 users.
In a bid deliver all its apps and services in one package, Microsoft showcased Windows 10 on smartphones, tablets, convertibles, and desktops. With this new all encompassing operating system, Microsoft's vision of 'Universal Apps' seems to have materialised. For those not in the know, apps built for Windows 10 will work on mobile phones to full fledged computers without the hassle of porting or modifications. This may not sound very interesting, but can breathe new life into Microsoft's weak mobile ecosystem. Microsoft Office suite, Photos, Videos, Music, Maps, People, Messaging, Mail, Calendar are the first few universal apps that will offer consistent and familiar interface across the devices.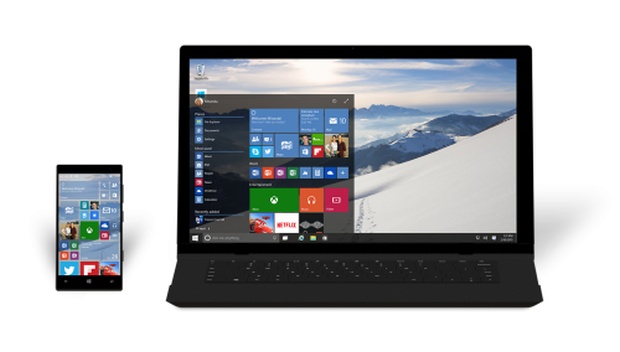 As expected, Windows 10 makes switching between the tablet and desktop mode easier. If you disconnect a keyboard on a Windows convertible device, a feature dubbed 'Continuum' will ask you to switch to the tablet mode. Let's hope it works as good as it sounds. Apart from that, Microsoft's voice assistant Cortana is ready to serve tablets and desktops. Microsoft continued to use Halo (video game) reference in its products by unveiling the 'Project Spartan' browser. If you are not much of a gamer, Cortana is an AI character from Xbox's best selling game Halo and Project Spartan refers to a super-soldier program in the same game. The new browser packs in some interesting features such as ability to annotate by keyboard or pen directly on the webpage, distraction-free reading view, offline reading mode, and Cortana Integration. Action Centre has got a lot more functional too.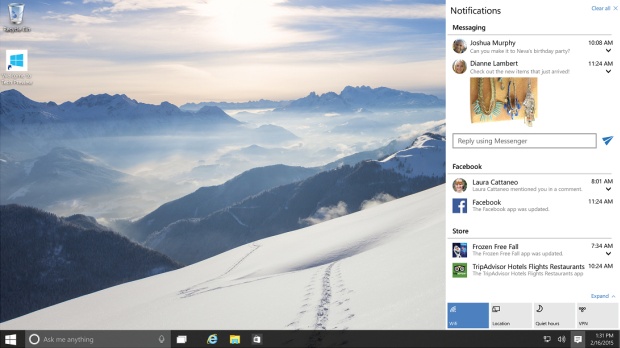 Action Centre in desktop mode.
Microsoft has updated the Xbox app to play nice with its gaming console. Gamers and developers can connect using Xbox Live gaming network on Windows 10 PCs and Xbox One. Players will also be able to play games on their PC, streamed directly from their Xbox One consoles. To improve graphics capabilities and efficiency, Windows 10 supports DirectX 12 application programming interface.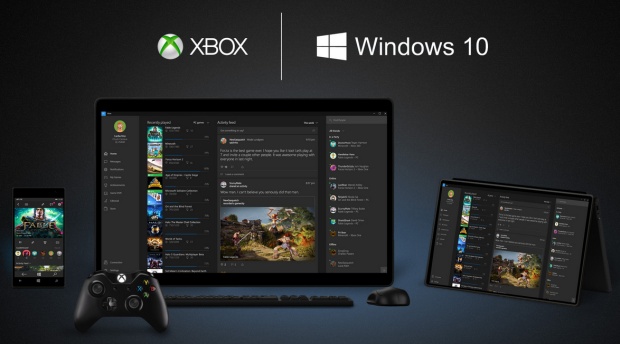 Be it a phone or PC, the operating system will be simply called Windows 10. So yes, the term 'phone' in 'Windows Phone' will be gone in the next update. A free upgrade for Windows 10 will be made available to customers running Windows 7, Windows 8.1 and Windows Phone 8.1.
Tech aficionados can download the next Technical Preview for Windows 10 on the PC for free in the next week. Phone users will have to wait till next month. For more information on the Technical Previews, head over to preview.windows.com
TAGS: Microsoft, Windows, Windows 10, Mobile Phones, Windows Phone, Tablets, PCs, Lumia, Surface