MWC 2012: Nokia Flashes 808 PureView
Latest (and maybe last) Symbian flagship smartphone boasts of a 41 mp camera and Xenon flash.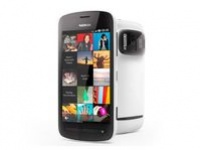 Nokia has finally put speculation regarding the N8's successor to rest by announcing the 808 PureView at MWC 2012. The highlight of this phone is its 41 mp camera sensor coupled with a Xenon flash.
 The latest Symbian flagship has also received a performance upgrade to support 1080p video recording. Under the hood is a 1.3 GHz CPU with 512 MB of RAM to keep it company. The handset's 4" AMOLED screen has pixel dimensions of 360x640. Additionally, the display features Nokia's ClearBack polarization treatment that supposedly delivers deeper blacks and better sunlight readability. The internal storage is 16 GB, with a microSD card slot to expand it. Then there's a long list of connectivity options, including HDMI, Wi-Fi, Bluetooth 3.0, USB OTG (to connect USB peripherals), a 3.5 mm jack that doubles up as a TV-out port, GPS, FM transmitter, FM radio, GPS, and an NFC chip. According to the manufacturer, the handset tips the scales at 169 grammes and is 0.7" (18 mm) thick at the camera because of the lumpy sensor.

No prizes for guessing that the 808's USP is its camera. How Nokia managed to squeeze in a 41 MP sensor in a mobile phone is still an unanswered question. What we do know is that it uses Carl Zeiss optics and some internally developed algorithms to achieve this. It has also been claimed that the phone's snapper offers up to 4x lossless zoom.

 The 808 PureView is expected to hit stores in May, with white, red, and black hues to choose from. However, there's no official word on its pricing. Check out the gallery for more images.