Angry Bird Star Wars 2 Coming On 19th September
New teaser video shows that you can soon play as Yoda too!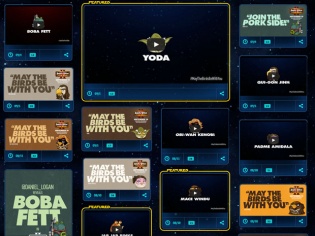 Rovio's pig bashing extravaganza, also known as the Angry Birds franchise is far from being laid to rest. After giving us the pork-sided story with Bad Piggies, the Finnish brand is all set to bring out the next chapter in of its Star Wars version. The Angry Birds Star Wars 2 is set to hit app repositories on 19th September, and the company is already teasing us with new characters that you can play with in the game. On the "Pork Side" there are characters such as Emperor Palpatine, Droideka, Zam Wesell, and TIE Fighter Pilot, which all let you play as pigs and kill birds in the process. Check out the linked videos to find out how they manage that.
On the Bird side, you can expect characters such as Yoda, General Grievous, and Jar Jar Binks. In all you can play with over 30 such characters in the next game franchise. After much anticipation, Rovio has put up a teaser gameplay featuring the Yoda. Check it out below. Let's just hope that after all this, the game is still worth its long wait.
TAGS: Gaming, Angry Birds