Samsung Launches GALAXY Beam Projector Phone For Rs 30,000
Android 2.3 handset can project an image up to 50" across; sports a 4" screen and dual cameras.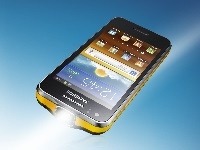 Samsung has launched what it claims is the world's first Android projector phone. The GALAXY Beam is based on Android 2.3 (Gingerbread) and was first shown off at the Mobile World Congress 2012 earlier this year. Why it doesn't sport the latest Android 4.0 (Ice Cream Sandwich) is a mystery though, especially since Samsung claims that the phone is upgradeable to ICS.

The Beam houses a 15 lumen DLP (Digital Light Projector) capable of creating a 50" 360p image at a distance of 2 metres. It comes with a 4" WVGA multi-touch capacitive LCD screen with pixel dimensions of 800x480, and is powered by a 1 GHz dual-core CPU with 768 MB of RAM. Weighing in at 145 grammes, this phone is just 0.5" (12.5 mm) thick, with the other dimensions being 4.9" (l) x 2.5" (w).
Other specs include a 5 mp snapper capable of 720p video capture, a front 1.3 mp camera for video chat, and 8 GB of internal storage with a 32 GB microSD slot. A 2000 mAh battery supposedly allows 3 hours of video playback with the projector and 20 hours of talk time on 2G. While the latter number seems too high to be true, it's actually because the retail package includes an extra battery. Samsung thus seems to have cleverly doubled the talk time specification by quoting the figure for two batteries. Going by this logic, it might even be possible that the projector will only last for 1.5 hours on a single battery, and you'll have to replace it with the spare if you want to continue watching a movie. If this is true, it rather defeats Samsung's claim of using the Beam as a "personal movie theatre".

In addition to a wide range of apps available through Google Play, the smartphone comes bundled with a drawing tool for presentations, claimed to eliminate the need for a laser pointer.
With this phone, Samsung has made its mark in the projector-phone niche that's dominated by low-cost models from brands such as Intex, Spice, Micromax, and MAXX Mobiles. However, at a steep asking price of Rs 30,000, it cannot hope to best its competitors on the basis of its projector feature alone.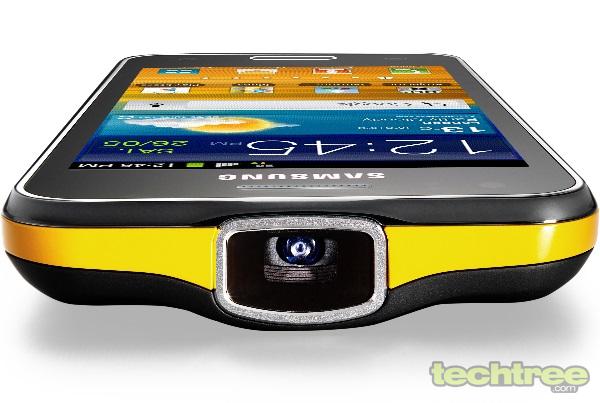 TAGS: Mobile Phones, Android, Samsung, GALAXY, Jayesh