MWC 2012: Samsung GALAXY Note 10.1 Tablet And GALAXY Beam Phone Spotted | TechTree.com
MWC 2012: Samsung GALAXY Note 10.1 Tablet And GALAXY Beam Phone Spotted
Overgrown version of the original Note will be revealed to attendees soon.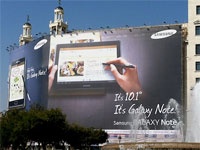 The Samsung juggernaut seems to have come loaded with goodies to show off at the Mobile World Congress 2012 (MWC 2012). The South Korean electronics giant, known in the gadget world for its endless fleet of smartphones and tablets, has put up billboards in Barcelona on Sunday, ahead of the event, displaying a 10.1" GALAXY Note with a stylus. There has been no official confirmation regarding the same, though.

Low cost 7" and 10" versions of the GALAXY Tab 2 running Android 4.0 have already been announced. Barring the screen size, both tablets sport similar hardware, which includes a dual-core 1 GHz processor, two cameras, and internal storage of 32 GB. Both tablets feature better batteries and will come in 3G and Wi-Fi versions.

In addition to the above, Samsung has also announced the GALAXY Beam projector phone. This Android 2.3 smartphone powered by a dual-core 1 GHz processor is capable of projecting content onto walls, ceilings, or any flat surface. The company claims that the 4" WVGA phone has a projector light powerful enough to cast an image as large as 50" across. Other specs include a 5 mp camera capable of 720p video capture, 8 GB of storage space, and an astounding 6 GB of RAM. Weighing 145 grammes, this phone is just 12.5 mm thick. With this handset, Samsung has added its weight to the niche market of pocket projector phones that is dominated by low cost models from brands such as Intex, Spice, and MAXX, although I'm not sure if it can match the pricing of its competitors.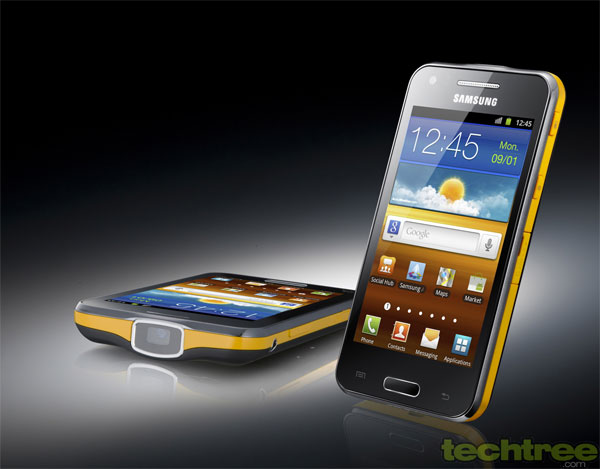 TAGS: Tablets, Mobile Phones, Events, Android, MWC, Samsung, GALAXY, Jayesh