Review: Canon PIXMA E500
A fast, multifunction printer with an affordable printing cost.
Rating

4
/5
15th Oct 2012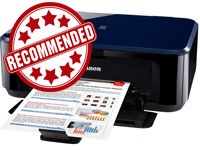 Pros:
Decent print quality; Fast printing speed; Ease of use; Good software; OCR; Low cost of printing.
Cons:
Printed text is not sharp in draft mode; No memory card reader; No PictBridge; No ADF.
Canon PIXMA E500
MRP: Rs 6000
Street Price (As On 12-April-2012): Rs 5700 (Letsbuy.com; Naaptol.com); Rs 5800 (BuyThePrice.com)

Multifunction devices or MFDs are devices that can do it all — print, scan, copy and sometimes even fax. MFDs are usually targeted at offices because they save on precious office space by replacing possibly four different devices. The PIXMA E500, unlike traditional boring MFDs, looks pretty and can even adorn your living room in style. It is actually full of features such as printing HD movie frames and adding fun effects to the image being printed, targeting the general home user more than an office setup.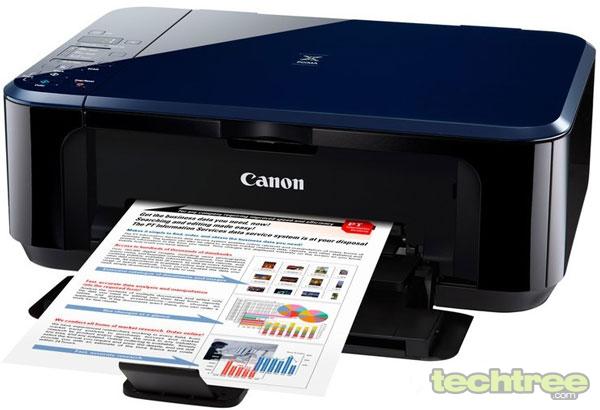 Bundle
Canon PIXMA E500 (with one black and one tri-colour cartridge).
USB 2.0 cable, Power cable.
Application and driver CDs.
User manual, Quick start guide

Design And Features
The E500 is a medium-size device and is reasonably light at 5.3 kg. The black plastic body has no sharp edges, and the design is pleasant to look at. While the trays may appear a bit tacky, they are actually quite flexible, and hence will not break unless subjected to excessive pressure. A glossy finish means that it catches dust fast and fingerprints become easily visible.
Based on thermal inkjet technology, the E500 comes with two cartridges: black and tri-colour. The cartridges can be installed by opening a door at the right of the device, which is more convenient than the usual method of sticking your hand inside the bay to do the same. Both paper trays are situated at the front. These trays fold to conserve space during storage, and have retractable extensions to increase their length to hold paper. The input tray can hold 100 sheets of paper, which is sufficient for any small office. It accepts paper face down with the top edge inside, while the printed paper comes out face up and top edge out.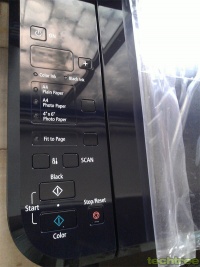 The user-friendly control panel is situated on the left and has a 7-segment display that can show up to the digit 9. Thus, you can choose to print up to 9 copies from here but you cannot reduce or enlarge them. There is a soft power button just above the display, while a + button to the right adds to the number of copies. Strangely, there is no - button to reduce the number of copies, and the only way to do it is to keep pressing + till the indicator reads 1. A button to choose three preset paper sizes is present along with a Fit-to-Page button. Below this, there is the convenient Scan button that lets you scan directly to the PC through the Auto Scan Mode, which automatically recognizes the document type and makes the optimal scan and save settings. Dedicated Color and Black copy buttons allow you to make copies of your documents and there is also a Settings button to modify device settings.
The scanner is of the flatbed type and can scan documents as large as A4 size. The absence of a document feeder means that you have to waste your time at this machine while scanning or copying a bunch of documents. The hardware resolution of the scanner is 1200x2400 dpi, which is sufficient for all practical purposes.
This MFD uses the USB 2.0 interface, which is the common interface in most systems today. Even though it does sport photo printing capabilities, there is no memory card slot or even PictBridge port, which is something that Canon should not have left out.
In addition to the drivers, the application CD came with many different software to take care of different needs. The Canon Solution Menu EX is a control centre of sorts, where you can access all the applications bundled with the printer. Canon My Printer is yet another control centre where you can diagnose and repair the printer, adjust printer settings, view printer status and do general troubleshooting. The Canon MP Navigator EX lets you not only scan or import documents and images, but also manage them. This is in fact a front-end to different applications such as OCR, image editor, email client, etc. Finally, Easy-PhotoPrint EX allows you to easily create albums, calendars and stickers using photos taken from a digital camera. It also lets you enhance photos and save the items you create.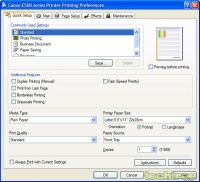 Printing preferences options let you control various settings using multiple tabs. You can select print quality, paper size, colour intensity, and greyscale \ colour printing. You can also opt to adjust the colour settings manually to fine tune the results. Paper size, orientation and layout in general, and duplexing to save on paper are some of the other available settings. The Image Optimizer feature smoothes out jagged edges, while the Photo Optimizer PRO corrects the colour and brightness of images that have been input from a digital camera or scanner and is designed to compensate for colour shift, overexposure, and underexposure. The Photo Noise Reduction feature can reduce digital noise in a photograph, to produce better prints.
Maintenance options are also aplenty, with not just print head alignment and cleaning options, there are options to clean the bottom plate and roller as well. There is even an option known as Quiet Mode – an innovative feature that reduces the printer noise. The Auto Power button lets you set the idle time after which the printer will switch off, thus saving electricity. The option to power off the device straight from the PC is useful if it is placed far from the PC.
By clicking on Ink Cartridge Settings button, you can select whether any print job to the printer should use one of the cartridge for printing, or both of them. This can let you economize the print cost. You can select the quantity of ink sprayed on the paper, which determines the time in which the printed paper dries. There is even an option called Prevent paper abrasion, which increases the gap between the print head and paper during high-density printing to prevent ink-streaking caused by paper abrasion. This printer comes with Mac and Linux drivers as well.

Performance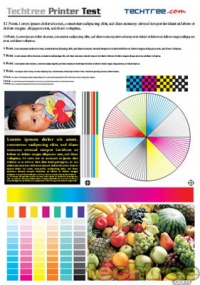 The installation of the MFD was very swift — it hardly took 10 minutes for the whole setup to complete. New users can choose Easy Setup for a one-step setup, while experienced users can select a custom setup to choose individual components to install. I tested the MFD using a variety of tests to test its printer as well as scanner components. Here is how it fared. In all the tests, there were no issues regarding paper handling.
Font Size Printing Test: I printed a page containing all the alphabets in fonts with size ranging from large to very small. While the text clearly lacked sharpness, there is not too much to complain about since this is comparatively inferior.
Text Print Speed: A page of black text in draft and normal quality was printed to find the speed as well as quality of the print. The MFD printed at an average of 8.6 pages per minute in the draft mode, and there was only a minimal drop in speed to 7.3 pages per minute in the normal mode. These are good speeds. The overall print quality was found to be decent with only some amount of periodic skewing and smudges in the draft mode.
Mixed Document Speed: This consisted of a page of multi-coloured graphs, text, charts, patterns, and photos. The MFD printed at an average of 3.4 pages per minute in the draft mode, and there was only a minimal drop in speed to 2 pages per minute in the normal mode. Colours were understandably fainter in the draft mode with graininess and smaller point size fonts were not legible. Normal mode print quality was good.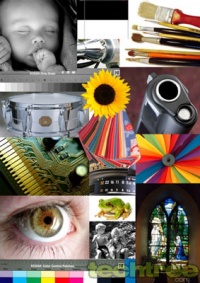 Photo Print: Unlike Canon printers we have been reviewing over the years, the photo quality was not really up to the mark. Colours had a darker shade than the original, while there was graininess throughout. A saving grace was that the A4 colour photo printed really fast in just 3 minutes and 40 seconds.
Scanner Test: The scanner is quite good at capturing colours as well as shades of grey. Fine details are also captured with ease. It takes an average of 11.5 seconds for a default scan, which is normal for such devices. For an A4 size black and white scan at 200 dpi, it takes 9.5 seconds. The time to scan a colour photo at 600 dpi is comparatively faster, taking just 59 seconds.
Copying Test: The copier test tries to find how well the printer and scanner components work in tandem. Black and white copies printed at an average of 5.2 pages per minute, while colour printed at 1.3. Thus, the copier part of this device is faster than its many of its competitors in the black and white mode, while it is slow in the colour mode. The quality of the copies is decent, though it could not do a good job at reproducing the smaller text present in the original.
Power Consumption: An energy meter was used to find the power consumed by this MFD. When the soft power button is switched off, the consumption was 0 Watts, according to the power meter. At idle, the power was 2 W, which increased slightly to 6 W when the scanner was used. Printing consumed 12 W, while the most power was used during some part of copying when the scanning and printing were being performed simultaneously, which was found to peak at 19 W. This printer, therefore, registered somewhat higher power consumption than some of the recent devices reviewed.

Final Words
The Canon PIXMA E500 is a decent device at a decent price. The print quality was found to be above average in most cases as far as a home user or SOHO is concerned. The print speed is quite fast even while printing photos at the highest quality setting, so you won't have to wait too long for the print to be produced. The driver interface is very easy and the overall ease of use is really worth noting. Also, it comes with good bundled software including an OCR and the drivers are for Windows as well as Mac. It does have its share of woes such as a lack of ADF or facsimile, but that should not be much of an issue with the target consumer segment.
The standard capacity black cartridge costs Rs 650 with a cost per print of just 80 paise, while the colour cartridge is priced at Rs 825 with a page yield of 400, thus yielding a colour-only print cost of only Rs 2. This makes it a very affordable printing option when compared with most other printers out there. It comes with a one-year onsite warranty, wherein the company will conveniently arrange to repair the device at your place, rather than you having to take it to the service centre. Priced very sweetly at Rs 5700, this printer is a good option for homes and small offices that don't want top-quality prints.

Design And Build: 4/5
Features: 4/5
Performance: 3.5/5
Value For Money: 4/5
Mojo: 4/5
Overall Rating: 4/5