Review: Denon Envaya Mini
Compact and sturdy speaker with impressive bass.
Rating

4
/5
12th May 2015
Pros:
Delivers Powerful bass; Sturdy construction; Good design; Sports playback controls.
Cons:
Battery life could have been better.
Denon Envaya Mini
Street Price: Rs 12,500

Denon is a well known audio equipment brand from Japan with a history of over hundred years. Initially, it was known as Nippon 'Denki Onkyo Kabushikigaisha'. For the International market, the name was shortened to Den-On. Similar to how Tokyo 'Tsushin Kogyo' turned into Sony. After delivering high-fidelity professional and consumer audio equipments, the company is now eyeing the portable speaker market boosted by smartphone sales. Can it compete with brands like JBL and Creative in India?
Design
The first thing to catch my attention after seeing the Envaya Mini is its metallic grille with a pattern of irregular sized pores. It looks nice, unless you suffer from Trypophobia. The use of metal brings in premium feel.
The colourful fabric behind the grille is a nice touch. The review unit we received is in orange/white combination, the other being black/blue.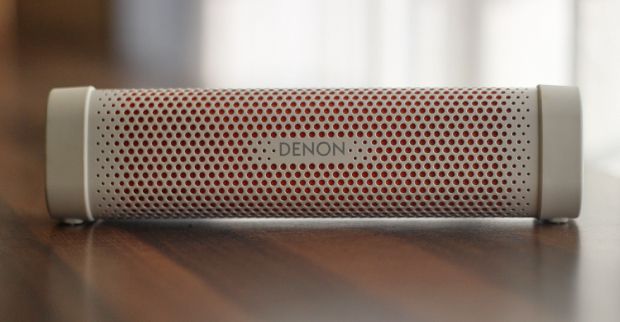 According to the product page, the Envaya Mini is IPX4 compliant. This means that it can withstand a splash from any direction. Do not submerge it in water though, as the device is not waterproof.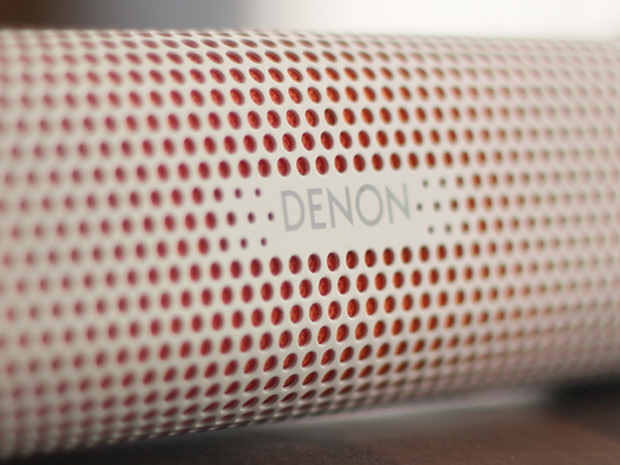 Considering its size, the speaker is quite hefty at 560 grams. The quality of materials is top-notch though. So I don't mind few additional grams.
To stabilise the speaker at high volumes, Denon has added rubberised grips at both ends. The speaker has LED indicators, AUX port, and micro-USB port.
The device has physical buttons. Off all, only [Volume +] is raised. Thoughtful thinking — you are unlikely to switch off the speaker trying to increase the volume.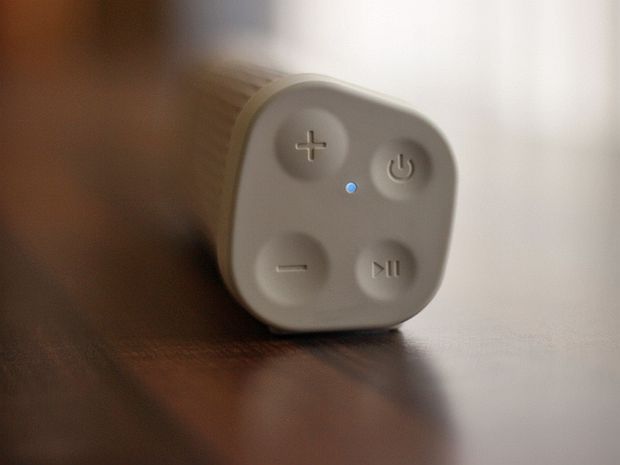 Setting It Up
To get it up and running, press and hold the Power button for a couple of seconds. To activate Bluetooth, long press the Play/Pause button. Can be a little confusing first time, as the instruction manual does not mention "long press".
NFC pairing option is available too. If you prefer wired connections, you can do so using an AUX cable.
Performance
Most speakers of this size fail to deliver bass. Armed with a passive radiator, the Envaya Mini is an exception though. It provides powerful bass. Kept on a wooden desk, the speaker roars on bass-heavy sound. It is also impressively loud — enough to fill an entire room.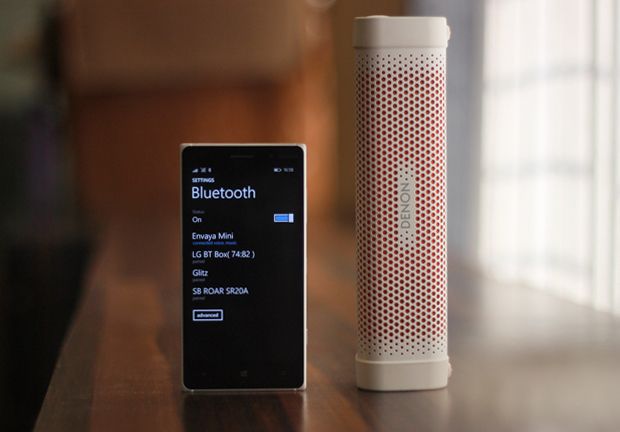 Thanks to its two 40 mm drivers, the speaker also handles mids and highs quite well. The frequencies are distinguishable. The only niggle purists will have here is that the audio is not perfectly balanced.
The speaker has a sweet spot. For best results, Denon logo should be facing you.
Features
The Envaya Mini comes with a speakerphone function. To receive a call, press the Play/Pause button. Pressing the same button again, disconnects the call. In case, you are wondering, the mic is placed near the company logo.
Battery
Denon claims the battery life of 10 hours on a single charge. However, in our test, it lasted a little over seven hours on Bluetooth. That's good enough to last one party.
Verdict
Priced at Rs 12,000, the Denon Envaya Mini delivers great sound. Considering its compact size, bass is impressive. If you're looking for a portable party speaker, the Envaya Mini is a very good option.
Those not keen on spending more than 10k, should consider the JBL Charge 2 that costs around Rs 8800. And if you are looking for pure sound, spend more and grab the Creative Sound Blaster Roar for Rs 15,000.
Rating: 4
Features: 3.5
Design And Build: 4
Performance: 4
Value: 3.5
Mojo: 4