Creative Sound Blaster Roar Review: No-Compromise Portable Speaker | TechTree.com
Creative Sound Blaster Roar Review: No-Compromise Portable Speaker
Finally, a portable speaker that delivers amazing sound.
Rating

4
/5
07th Feb 2015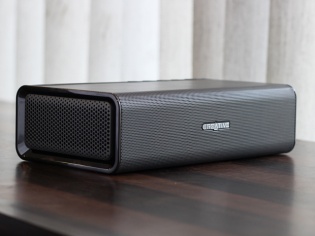 Pros:
Excellent sound quality; Elegant design; Sturdy construction; Smartphone charger; Memory card slot; Playback controls; USB DAC support.
Cons:
Battery could have been better; Some controls are confusing,
Creative Sound Blaster Roar
Price: Rs 15,000
Creative as we all know, has been associated with PC peripherals for years. I remember good-old 2.1 speaker system from the Singapore-based company that shared a table with my tower computer. With handheld devices taking over the world though, we stopped hearing much about Creative. However recently, the company started focusing on the Bluetooth speaker segment to stay relevant in the market. Showcased at the Consumer Electronics Show (CES), Creative's Sound Blaster Roar portable speaker was well received. And at the IFA 2014, it won the prestigious Red Dot design award. Creative took its own sweet time to brings this product to India. Now that it's available here, let's find out how good it is.
Design
At first glance, the Sound Blaster Roar looks like a product from Bose's SoundLink line-up. This is a good thing, as you get a sleek product with metallic body. With an understated grey scheme, the speaker looks elegant. The metal mesh is rendered to perfection. Moreover, chrome finish on the sides add character to the device.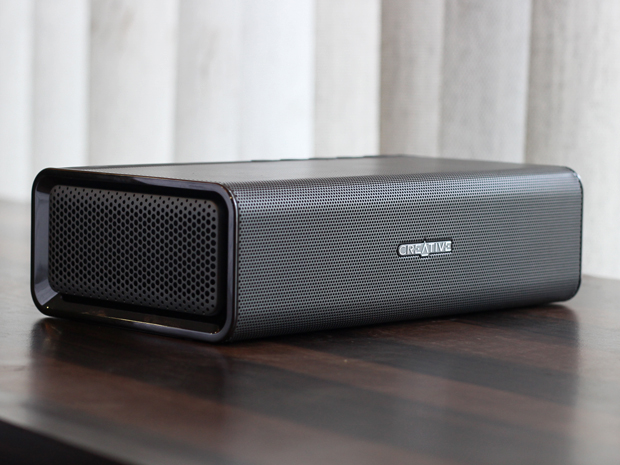 The impressive design is complemented by quality materials. Even the rubberised panel that houses ports and buttons feels premium. However, tipping the scales over a kilogram with 57 x 202 x 115 mm dimensions, the Roar is bigger and heavier than most portable speakers. But, that's because Creative has a different approach compared to the run-of-the-mill speaker manufacturers. Rather than simply making a portable speaker, the Singapore brand focused on acoustics. You will be surprised to know that Creative has squeezed in two front drivers, upward firing bass driver, and passive radiators in the Sound Blaster Roar.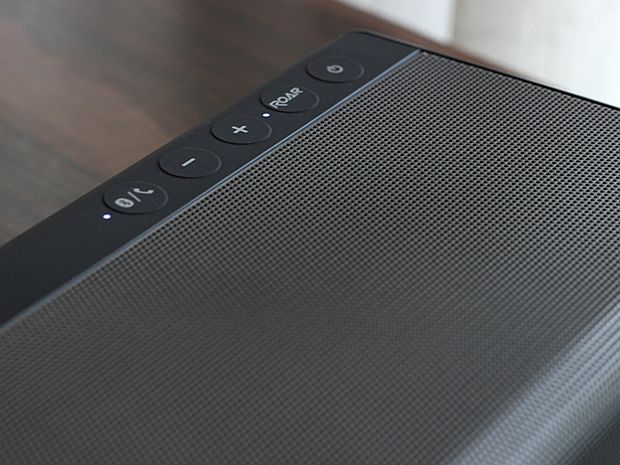 Essential buttons such as power and playback controls on the top side of the speaker are well spaced out. In contrast, the buttons and toggles on the back-plate are not streamlined. They are somewhat overwhelming to look at. This niggle aside, there's nothing to complain about in the design and build department.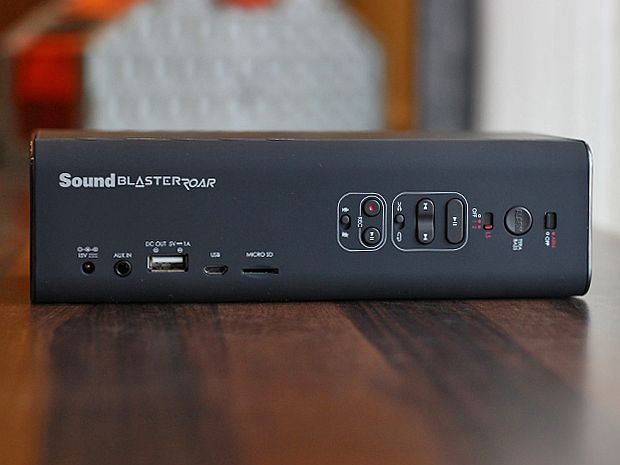 Technical Details
The Sound Blaster Roar features two 1.5" drivers. These are accompanied by upward firing 2.5" driver and passive radiators on side. On the connectivity front, it features Bluetooth with NFC pairing support. Additionally, you get AUX IN and microSD card support. It comes with a dedicated 15V charger. It sports one full size and another micro-USB 2.0 port. The device draws power from a 6000 mAh battery.
Performance
Thanks to its three drivers, the Roar produces balanced sound. Be it highs, lows, or mids, it handles everything with ease. This is quite a feat for a wireless portable speaker. I played many of Bruce Springsteen's vocal-centric songs, and was amazed by the the clarity in sound. In Sinéad O'Connor's Nothing Compares 2U, the bass was thumping. You can enhance it further by activating the Terra Bass feature. In Bollywood tracks, it provided sharp treble. For those who prefer loudness, there's a Roar mode, which delivers resonant sound. Thanks to precision build and clever placement of drivers, the Roar does not vibrate in its chassis (most portable speakers tend to do that).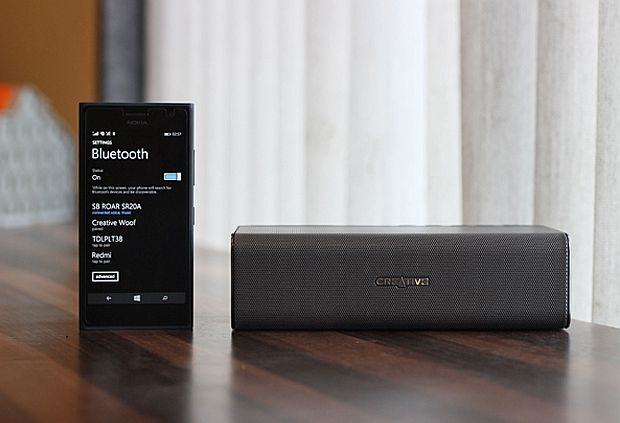 The Sound Blaster Roar can easily fill a large room with quality sound. However, you have to be careful with its placement. For best results, it should be facing you, ideally on a flat wooden surface. Keeping it on its sides adversely affects the depth of the sound.
Features
Apart from Bluetooth, the Sound Blaster Roar can play music via AUX In port. If in case your laptops 3.5 mm jack goes bad, you can even connect it via USB DAC (Digital to Analogue Converter) feature. Then, there's a microSD slot for on-device playback. You can record sound using the in-built mic. The machine can also record the songs that are being played in MP3 format. Not sure if it is legal, but you can stream free songs on MixRadio and save them on a memory card.
The Tera Bass button doubles-up as a siren. Ideal, when you are camping and want to send an SOS. To make sure, your technologically challenged friends don't trigger it accidentally, there's a security switch besides it. Another neat feature is the Bluetooth Link Security. Using three modes, you can control device's discoverability or even choose to connect it simultaneously to two devices. As mentioned earlier, the Roar comes with a microphone that enables teleconferencing. companies can actually deploy it in meeting rooms.
Battery Life
on a full charge, the Roar provides around 7 hours of music playback over Bluetooth. Playing it via memory, it lasts for additional hour. The battery performance is quite good, but it would have been awesome had the device managed to clock in 10 hours of playback. The 6000 mAh battery also works as a power bank. Using the full-sized USB port, you can charge your smartrphone.
Verdict
The Creative Sound Blaster Roar is a rare portable speaker that does not compromise on the sound quality. The product is sturdy and looks sophisticated at the same time. Considering its ability to produce fuller sound. It wouldn't be wrong to call it a compact sound bar. Sure, some of the controls need to be streamlined. And there's a room for improvements in terms of battery life. However, these small issues are outweighed by the excellent sound output. So if you are looking for a sub 15k portable speaker, you must consider the Sound Blaster Roar.
Rating: 4/5
Features: 5/5
Design and Build Quality: 4/5
Performance: 4.5/5
Value For Money: 3.5/5
Mojo: 5/5
TAGS: Speakers, Bluetooth, Creative, Creative Sound Blaster Roar