Review: Samsung Galaxy E7
Go for the Galaxy S4 instead.
Rating

3
/5
17th Apr 2015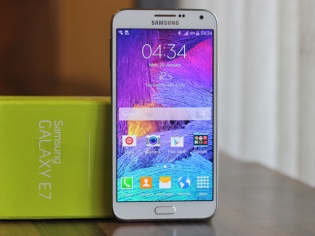 Pros:
Vibrant screen; Good construction; Impressive multimedia performance.
Cons:
Done-to-death design; Garish and cluttered TouchWiz UI; Not ideal for single-handed use.
Samsung Galaxy E7
Street Price: Rs 19,000

For years, Samsung sold tonnes of smartphones in the mid-range segment. At one point of time, its Galaxy Grand was one of the best selling smartphone in India. Although a plasticky phone with a terrible screen, Samsung managed to sell truckloads with its brilliant marketing. Times have changed now, Xiaomi and OnePlus are growing its user-base at the expense of the Korean-giant. Chinese brands offering sleek devices at an affordable price have driven Samsung to raise its game. As a result we have got metal clad A and E series phones. The E7 is the top-of-the-line handset in the series.
Design
If you were expecting a new design, prepare to get disappointed. The E7 looks like the Galaxy Grand or any other mid-range Samsung phone for that matter. You get rounded corners and iconic home button. However, with relatively better construction and a metallic rim.

Compared to previous Samsung phones in this price bracket, the E7 is thinner yet sturdier. Solid build comes with a trade-off though. The plastic back-panel is not removable. This means that you need to visit a repair shop or a service centre to get the battery replaced.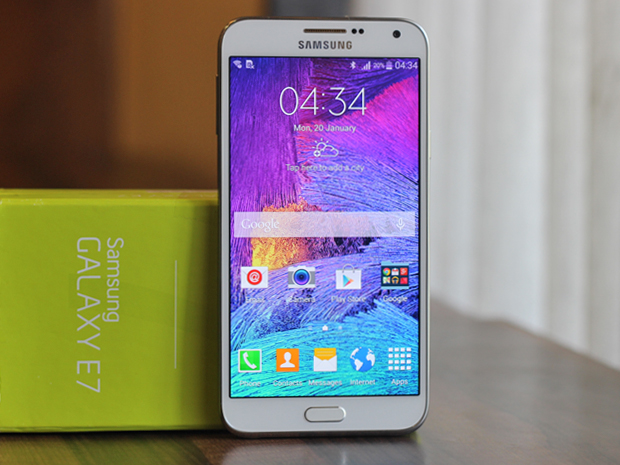 The back has a matte finish, which feels way better than the glossy or faux-leather found on most Samsung devices. Volume rocker is on the left-hand side. On the opposite side is a power button along with two nano SIM slots. The second SIM slot is hybrid type — if you don't have two SIM cards, you can use the slot for a micro SD card.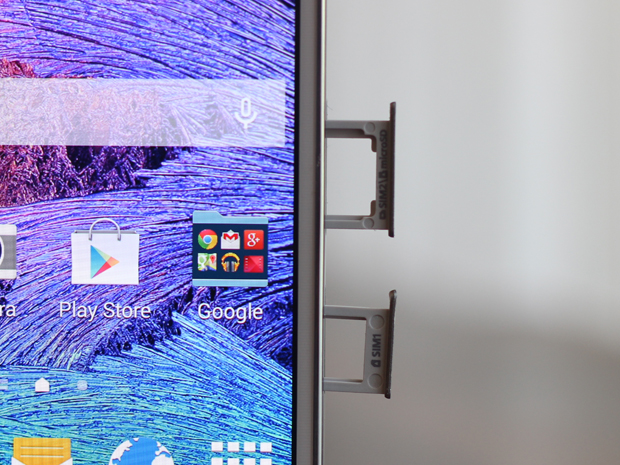 Similar to the recently reviewed Honor 4X, I struggled using the E7 with one hand.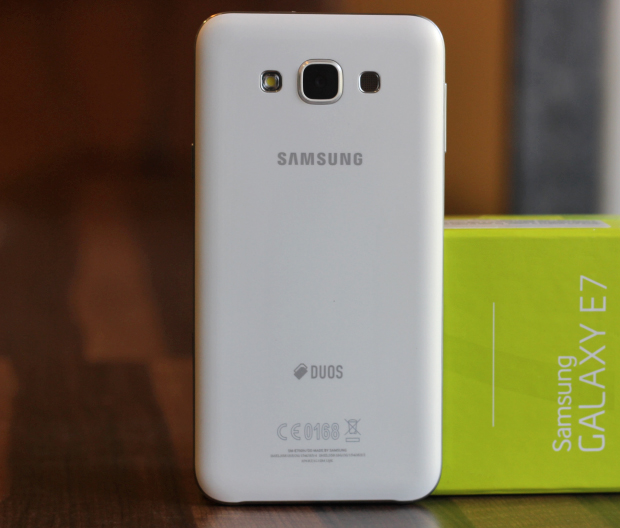 Display
The Galaxy E7 comes with a 5.5" screen. The Super AMOLED screen has pixel dimensions of 720x1280 pixels. That's pixel-density of around 267 ppi. Don't worry about the pixel density, the screen looks fine — you will notice pixel only upon close inspection. But yes, the S4 that now costs less than the E7 sports a much better screen.
The AMOLED screen produces brilliant colours. The reds and greens pop-out, while the blacks are incredibly deep. Since the phone lacks the ambient light sensor, you have to manually change the brightness. This is quite strange for a Rs 20,000 phone. Samsung has added an outdoor mode for screen that maxes out the brightness for sunlight legibility.
Specifications
The E7 is powered by a quad-core Snapdragon 410 chipset clocked 1.2 GHz. There's 2 GB RAM and 16 GB internal storage. You can expand storage by another 64 GB, if you choose not to use the second SIM.
In the photography department, you get a 13 megapixel rear camera. For selfies, there's a 5 megapixel front-facing snapper too. Other features include Wi-Fi, Bluetooth 4.0, A-GPS, and 2950 mAh battery.
Software
The Galaxy E7 runs Android 4.4.4 (Kitkat). On the top layer you get Samsung's TouchWiz user interface. It looks incredibly garish. Icons are gaudy and the use of colours is rampant. Samsung has been considerate enough to add theme support. However, each theme is more puerile than the previous. For instance, the nature theme adds a weird leaf to icons.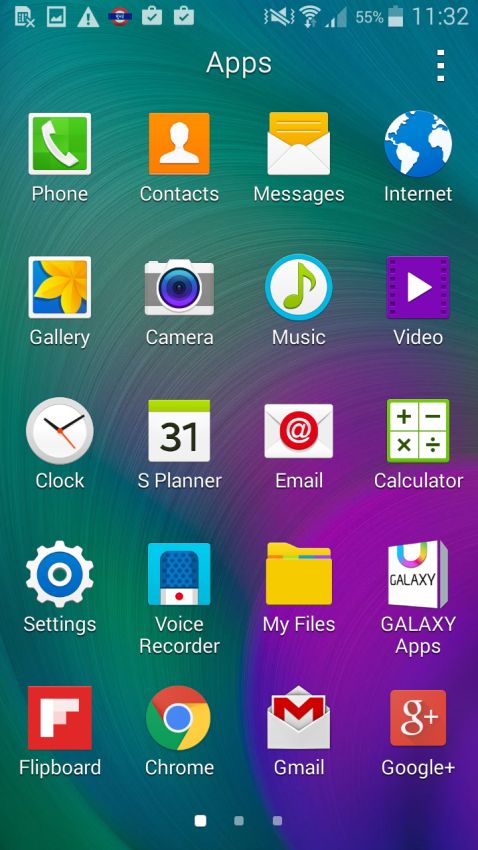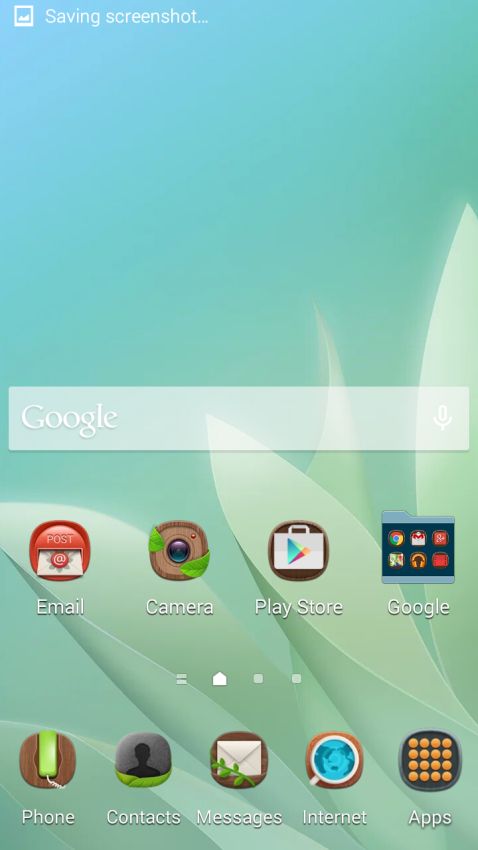 Clutter is present throughout the TouchWiz interface. The settings panel in notification bar is a good example of that. Then, there's a multi-window mode that lets you work two apps simultaneously. Yay! double clutter.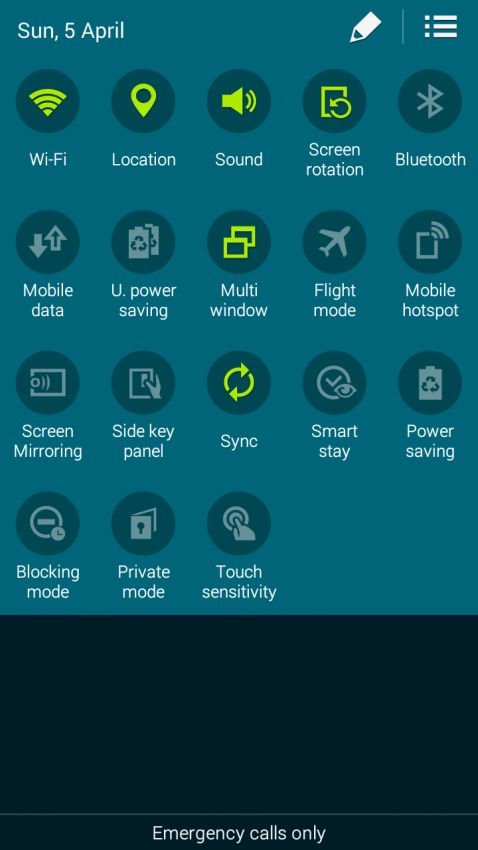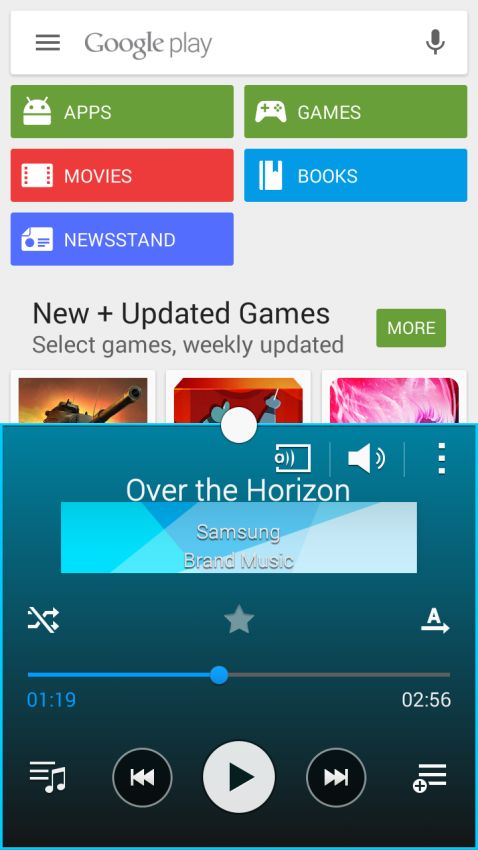 Samsung hasn't given any date for the Lollipop release. However, I'm not complaining because the phone runs quite smooth on the current software version. From my past experience with Samsung phones, I will, in fact think twice before updating it.
Multimedia
If you are a movie buff, nothing suits you more than the Android platform. Thanks to third-party apps such as MXPlayer, you can play almost any video format on your phone.
The Galaxy E7 has got enough to please a music lover too. The sound output is mostly clean. Using sound settings, you can control bass and treble as your taste. The earphones are a standard Samsung issue. Nothing fancy, but offers good sound.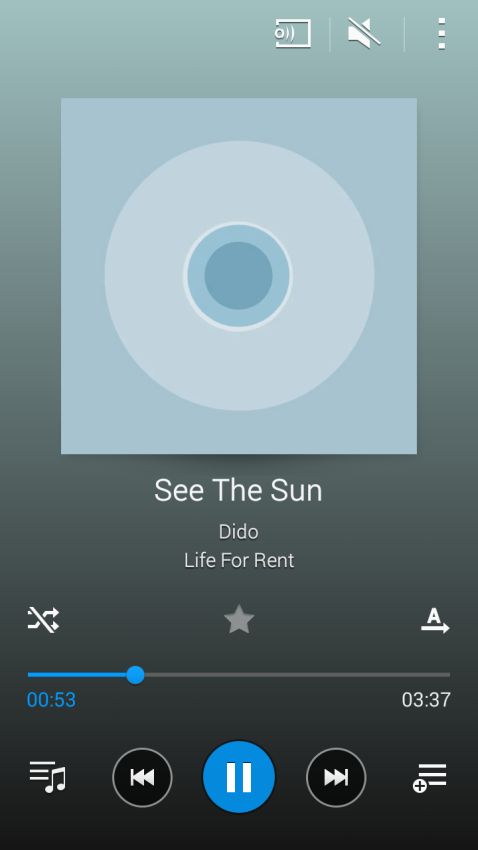 Camera
The 13 megapixel camera delivers great results in good lighting conditions. It produces crisp images on a sunny day. Click here to check the camera sample. However, things go downhill in low-light. In absence of good lighting conditions, the images turn out to be grainy. In comparison, the similarly priced Lumia 830 pulls-off impressive performance even in low-light.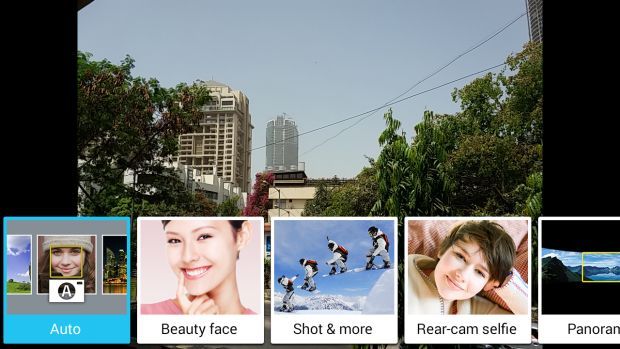 The device comes with a 5 megapixel front-facing camera. It is more than enough for your Skype calls. Selfie lovers will definitely love it. The phone records videos at Full HD (1080) resolution with 30 frames per second. Similar to the still camera performance, the quality of videos is good in bright outdoors and mediocre in low-light.
Cellular
As mentioned earlier, the phone supports two SIM cards if you are ready to let go of the microSD card. During my week's usage, I found the device's network reception to be solid. I was little annoyed by Samsung's swipe to pick call gesture that does not work properly at times.
Battery
Unless you set the screen to full brightness, the phone easily lasts for over a day and half under normal use. Regular readers would know that it has become a standard these days.
Verdict
The Galaxy E7 is a big improvement over what Samsung used to sell at this price point. The construction quality is very good. The AMOLED screen as usual produces amazing colours. Its multimedia performance is good too. However, it is now becoming increasingly difficult to put up with Samsung's stale design. Worst is the TouchWiz UI that looks seriously dated.
So if you are an Android fan, it makes sense to go with the Galaxy S4 that comes with better hardware at a similar cost. Those ready to try out something new should consider the stylish Lumia 830 that comes with a brilliant camera.
Rating: 3
Construction: 4/5
Aesthetics: 2.5/5
Portability: 3/5
Display: 3.5/5
Camera: 3.5/5
User Experience: 2/5
Multimedia: 4/5
Battery life: 3/5
Ecosystem: 4.5/5
Affordability: 3/5
TAGS: Mobile Phones, Android, Samsung, GALAXY, Samsung GALAXY E7