Review: Dish truHD+ | TechTree.com
Review: Dish truHD+
A hard-drive-less Digital Video Recorder.
Rating

3
/5
30th Sep 2012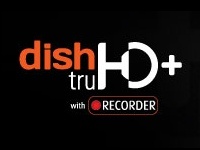 Pros:
Hard-drive-less recording; Allows use of USB drives; 5.1 channel audio support.
Cons:
Expensive subscription packages; Rs 300 extra to enable recording feature; Cheaply built; Dated UI; No LAN connectivity.
Dish truHD+
Price: Rs 2700


Now that everybody and their uncle in the satellite TV space has moved to the HD bandwagon, dishtv has finally upgraded its set-top box (STB) to the widescreen 1080i format. Priced at Rs 2700, the Dish truHD+ is marginally cheaper than competing HD boxes from the likes of airtel and Tata Sky.
However, with Rs 375 as the base price for the starter subscription pack, it's substantially more expensive than the competition in the long run. The inability to pick and choose channels like Tata Sky is also a problem for those wanting to settle for a base subscription pack and add the channels that they watch regularly. Now that we have got the money worked out, let's take a gander at the hardware.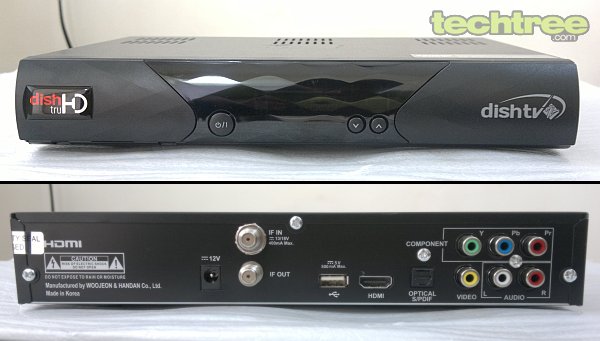 Front and rear views.
No Hard Drive? No Worry!
The Dish truHD+ box is surprisingly small and light for something that offers recording feature. If you haven't noticed, it's also substantially cheaper than the rival DVR (Digital Video Recorder) offerings. That's because, unlike the competition, the truHD doesn't include a hard drive. Recording is achieved via a USB port at the rear, which can accommodate drives ranging from 1 GB to even those beyond 1 TB.

Although, dishtv claims that the recording feature comes at no extra cost, you still have to pay Rs 300 to trade in your plain-vanilla non-recording remote with one that has extra recording controls. That's extra cost, any way you look at it. Unfortunately, getting the recording feature activated turned out to be quite a cumbersome task. Even after many requests and inordinate delays, I couldn't get the DVR component activated from dishtv's end. This may be a one-off case, but it raises serious questions about this add-on feature.
The Set-Top Box
The front fascia of the STB is spartan with just a single power button and another pair of buttons for changing channels. A decidedly cheap looking 8-segment display takes care of the volume and channel status in the centre. The device is powered by an external power 12v adapter, which jacks into the rear. A\V connectivity options include HDMI, component, composite, and an optical out to route bitstream 5.1 audio to your A\V receiver for proper multichannel output. Don't expect any internet-enabled features, thanks to it's lack of a LAN port. While the plain-vanilla remote control is fairly easy to operate, the upgraded DVR capable remote is ill-designed and too cluttered for comfort.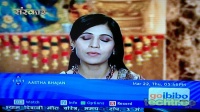 With a cold startup time of 35 seconds, it's quite annoying if you prefer to save power by shutting off your gadgets, like I do. The STB is fully operational within 15 seconds from standby though. The UI isn't fast, but the response time is on par with the competition. The delay between switching channels, although, is noticeably longer than the Tata Sky or airtel offerings. The UI looks dated, and isn't very appealing unlike airtel's transparent menus or Tata Sky's polished and well designed offering. However, in terms of functionality, it does its job just as well with proper channel categorisation, programming info, and all the feature that you find in competing STBs.
Middling HD
Picture quality wise, the Dish truHD+ can be placed between Airtel digital TV [HD] recorder and Tata Sky. The bit-rate seems to be better than airtel, as it's evident in better handling of fine colour gradients and reduced motion-induced blockiness. However, all HD channels show inordinately high edge correction, which is a bit annoying. With Tata Sky it still looks marginally better though. The availability of HD channels is on par with the competition.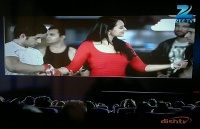 With the Dish truHD+, dishtv makes a smart move by eschewing expensive hard drives for USB recording, for Rs 300 extra. This not only makes it substantially cheaper than the competition, but also more flexible in terms of storage space limitations. The only problem is that my personal experience regarding the activation of the DVR feature was quite dismal, but yours may vary.
Unfortunately, the savings are offset by the rather high entry fee of Rs 375 for the basic channel package. With decent picture quality and 5.1 channel audio support, this doesn't look too bad when you consider it as a cheaper DVR alternative.
Performance: 3/5
Design & Build Quality: 2/5
Features: 2.5/5
Value For Money: 4/5
Mojo: 3/5
Overall Rating: 3/5
TAGS: Culture, DTH, dishtv, Nachiket