Review: HTC One (E8) | TechTree.com
Review: HTC One (E8)
HTC's knight loses its metallic armour.
Rating

3.5
/5
27th Oct 2014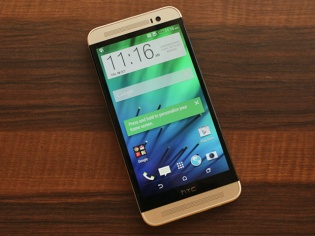 Pros:
Crisp Full HD display; Great multimedia perofrmance; Good camera; Thoughtful speaker setup; Long battery life.
Cons:
Phone does not feel premium; Screen could have been better; Not ideal for single-handed usage; Camer struggles in low-light.
HTC One (E8)
Street Price: Rs 32,000
HTC One (M8) is one of the best Android smartphones in the market, However, not everyone is willing to shell-out Rs 42,000, so HTC has come-up with a stripped-down version of its flagship. Available for around Rs 32,000, is it just a non-metallic One (M8) or a different device altogether?
Design And Build
HTC's recent high-end devices are known for premium build. Its iconic front-facing speaker setup goes well with the current design language. On a first glance, the One (E8) seems to continue HTC's trend of well-crafted handsets. However, the disappointment hits you as soon as you check out the sides and back of the One (E8). For starters, the device feels plasticky, which is a step-down from HTC's metal-clad handsets.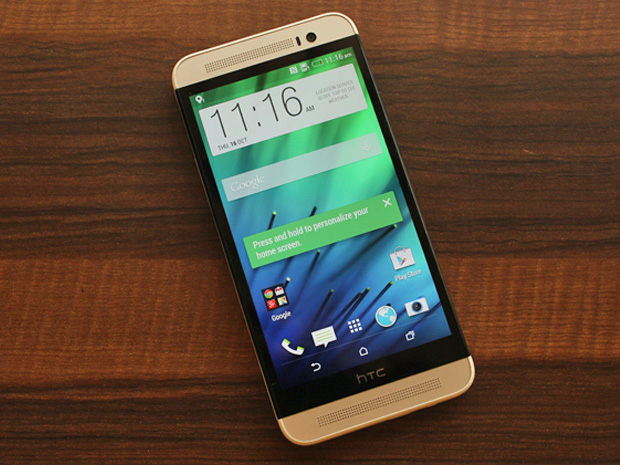 Because of the plastic body, the metallic speaker strips look out of the place. Moreover, the black bands on the sides of the display glass are a bad design decision. The One (E8) also lacks the attention to detail we expect from HTC. On close inspection, you can easily spot lumpy surface where the display and body meet.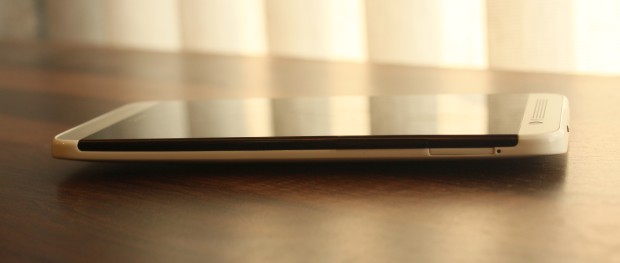 Just like the (One) M8, this phone's back is gently curved. The camera lens is placed in centre. A slot for two SIM cards is on the left side. On the opposite side, you get a microSD card slot and volume rocker. Micro-USB port and 3.5 mm jack are at the bottom. The Lock button is in the middle of the top side, making it difficult to reach.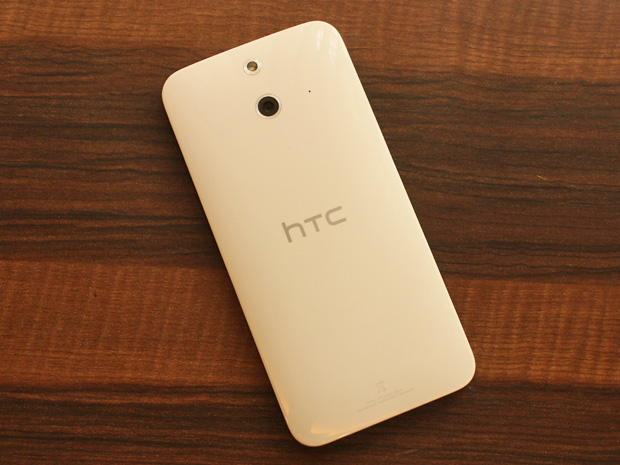 Screen
The phone comes with a 5" Super LCD3 capacitive touchscreen. With Full HD resolution, it has the exact same pixel density (441 ppi) as that of the One (M8). Needless to say, we are pleased with the crispness of the E8's screen. it's viewing angles are decent too. The screen is protected by a scratch-resistant Gorilla Glass 3. Compare it to Samsung's AMOLED screens though, and you realise that HTC has a long way to go in terms of screen quality. In LCDs also, the E8's screen is not as good as LG G2's IPS panel.
Specs
The One (E8) is powered by a quad-core Snapdragon 801 chipset clocked at 2.5 GHz, and there's 2 GB of RAM. Gaming is taken care of by the new Adreno 330 GPU. In the photography department, you get 13 megapixel main camera. 16 GB internal storage, and 2600 mAh Li-Polymer battery. There's a 5 megapixel snapper for Selfies. To keep the costs down, HTC has let go of the Infrared port and duo camera setup.
UI And Applications
The One (E8) runs Android 4.4.2 Kitkat with HTC's Sense UI 6 on top of it. The Taiwanese company's customisation looks neat. With thoughtfully chosen colours, the themes are quite easy on the eyes.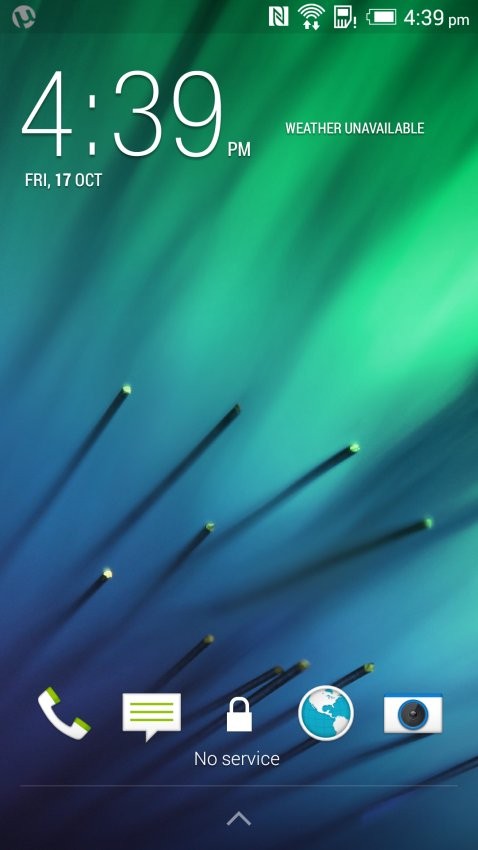 You can add up to six homescreens. Out of that though, one is dedicated to HTC's BlinkFeed that displays latest news and social network alerts a scrollable feed. Of course, you can alter it according to your interests. Since it's exactly like what you get on the HTC One (M8), you can revisit that review for more details.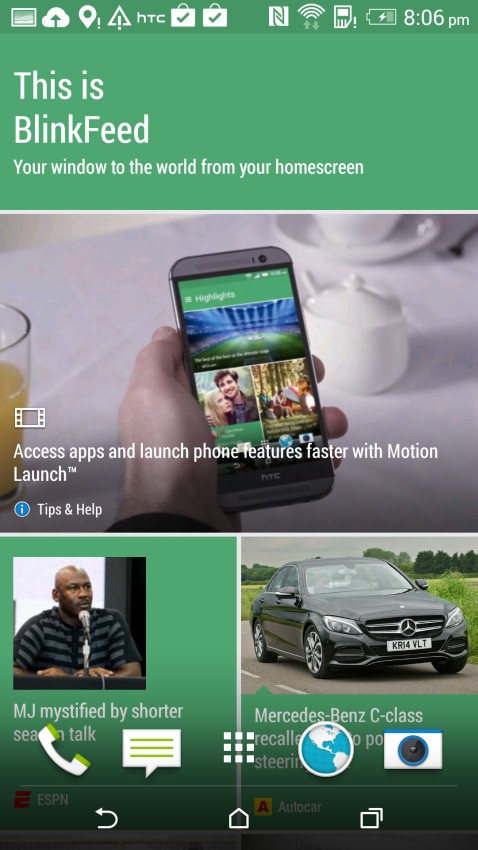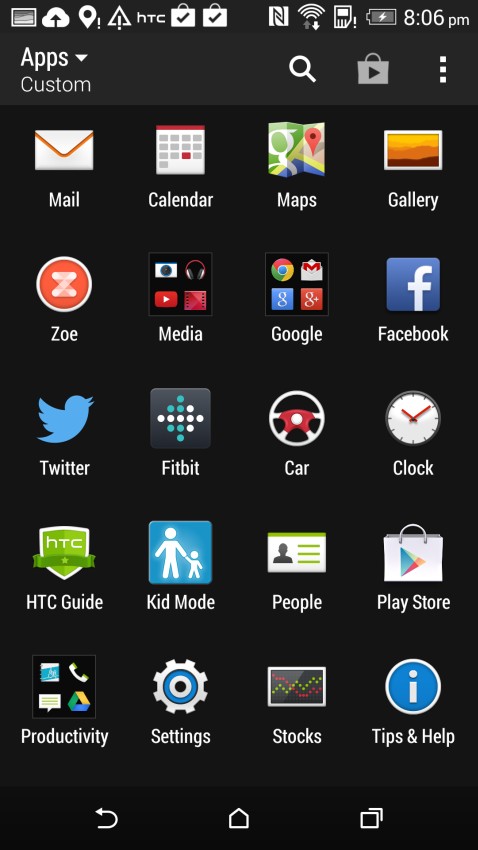 With a quad-core Snapdragon 801 ticking inside, there's hardly any stutter in the interface. In terms of gaming performance, the phone had no trouble running latest titles such as Rival Knights and Modern Combat 5. For those interested in numbers, here's are the synthetic benchmark scores.
AnTuTu: 44,800
Quadrant: 25,193
Multimedia
The dual front-facing speaker setup is a highlight of the HTC One (E8). These speakers are not only loud, but produce quality sound. The sound is so well directed that you can watch a movie in a quite room. Of course, you are going to need earphones at noisy places. Speaking of which, the bundled earphones are good. More importantly, device's sound output via 3.5 mm jack is amazing.
Moving onto video playback, the phone doesn't support many formats. So make it a point to download MXPlayer. So overall, the multimedia performance is very good. The only thing I missed here is the IR remote feature that I enjoyed on the HTC One (M8).
Camera
Unlike the HTC One (M8), the One (E8) comes with a 13 megapixel camera. Good to see, HTC letting go of the "Ultrapixel" gimmick. The images taken with this phone are sharper compared to the M8's snaps. So in terms of photo quality, the E8 beats the M8. However, since the E8 lacks the Duo camera setup, you are going to miss those fancy UFocus and Dimension Plus features found in the M8. Moreover, the E8' low-light performance is nothing to write home about.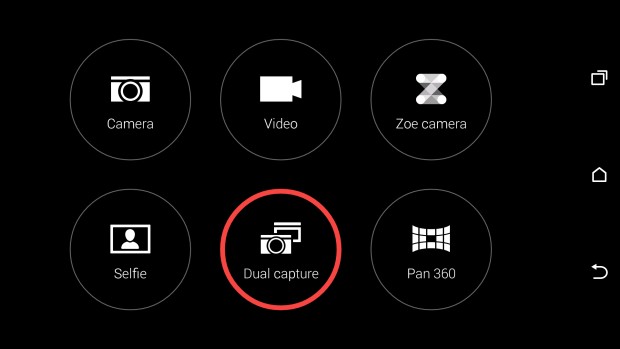 The E8 captures 1080p quality clips at 30 fps. Thanks to the high-megapixel count, the videos contain good amount of detail.
Telephony And Messaging
The phone and messaging interface is a standard HTC affair with a slight modification to fit in dual-SIM support. For better or worse, this is one of the few high-end phones with dual-SIM support. In the messaging department, HTC's keyboard is quite good.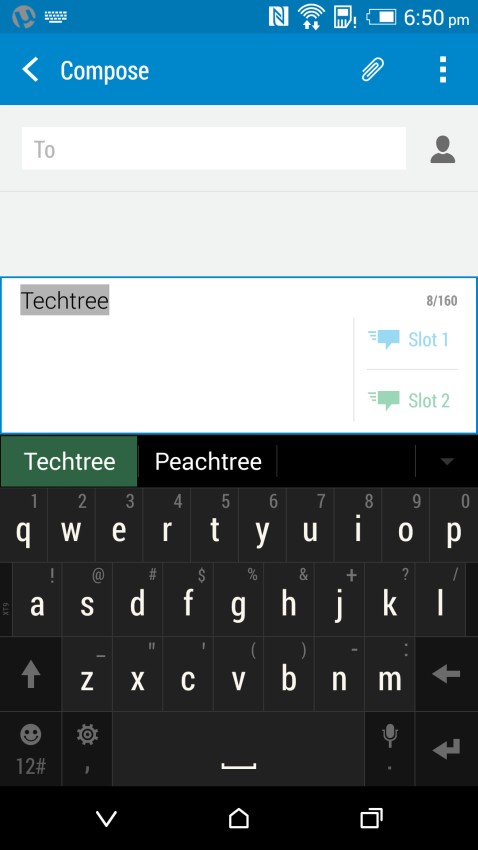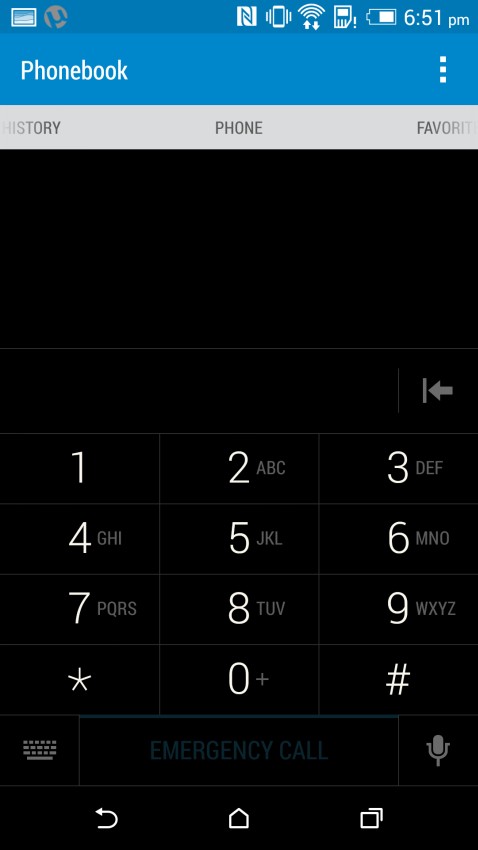 Battery
Similar to the M8, this phone comes with 2600 mAh Li-polymer battery. Little wonder then, the E8's battery performance is almost identical to the M8. With normal use, the battery keeps keeps it powered-up for a day and half. In our video loops test, the battery lasted for more than 11 hours.
Verdict
The HTC One (E8) offer great user experience. Although devoid of fancy features, its 13 megapixel camera produces better results compared to the flagship One (M8). In terms of media performance, including audio, video, and gaming, the phone's performance is excellent. However, it's display could have been better. Generally, HTC is very good with aesthetics, but the One (E8) doesn't come across a premium device. Therefore, if you are fine with a plasticky phone, why not go with the LG G2 that offers a vibrant screen and great camera for Rs 29,000?
Features: 4/5
Design And Build Quality: 3.5/5
Performance: 4/5
Value For Money: 3.5/5
Mojo: 4/5
Overall Rating: 3.5/5
TAGS: Mobile Phones, Android, HTC, One (E8)