Sony Xperia Z2 Review: Waterproof, But 4K Video Recording Lets It Down | TechTree.com
Sony Xperia Z2 Review: Waterproof, But 4K Video Recording Lets It Down
Hard to believe, but the heavily promoted 4K recording feature hardly works.
Rating

3.5
/5
12th Aug 2014
Pros:
Crisp Full HD screen; Excellent gaming performance; Waterproof body; Great music output; Comes with free SmartBand.
Cons:
Earpiece sounds muffled; 4K video recording is half-baked; Screen has a slight red tinge; Camera doesn't live up to the hype.
Sony, was once a prominent player in the mobile phones industry. I'm sure many of our readers will remember the good-old JAVA phones from this brand. Later, however, the Japanese tech empire crumbled as the iPhone took over the world in 2007. Since then, Sony is trying hard to regain its lost glory. With its Xperia series, the company did win back some of its fans. The Z was a decent phone, and the Z1 was another step in the right direction. Its latest flagship Z2 is definitely the best Sony has to offer. Let's find out how it fares against the likes of GALAXY S5, G3, and HTC One (M8).
Aesthetics
The Xperia Z2 may not have the metallic charm of the HTC (M8), but it's one good looking device nonetheless. Like its predecessor the Xperia Z1, the Z2 flaunts a omniBalance design, which is all about reflective surfaces and symmetry in all directions. That's probably the reason why sometimes it's difficult to differentiate between the phone's front and back.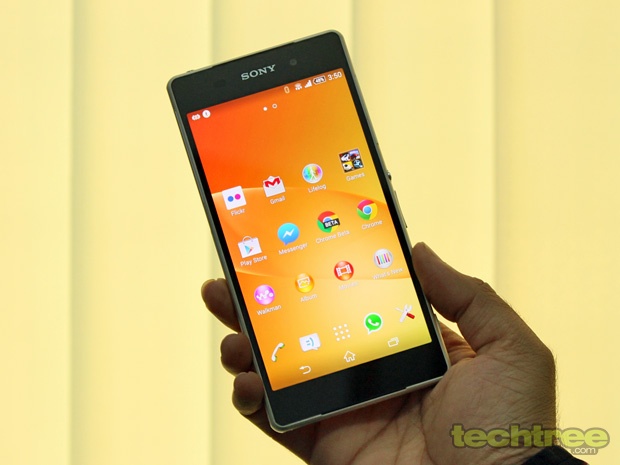 The Xperia Z2 has a sturdy aluminium-frame. Similar to the iPhone 4 and 4S, it comes with a rear glass panel. Beyond doubt, it's aesthetically pleasing, but on the flipside, it's prone to scratches. Another drawback of the glass rear is that it's hard to grip.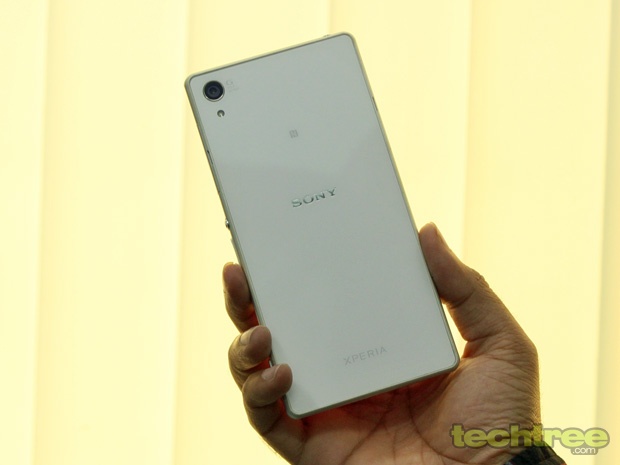 Like its predecessor, the Xperia Sony's latest flagship is IP58 certified — it can withstand dust and water. The number '5' denotes protection against dust particles, and '8' stands for the phone's ability to survive water immersion up to 1.5 metre. Of course, the micro-USB and micro-SIM slots should be covered properly.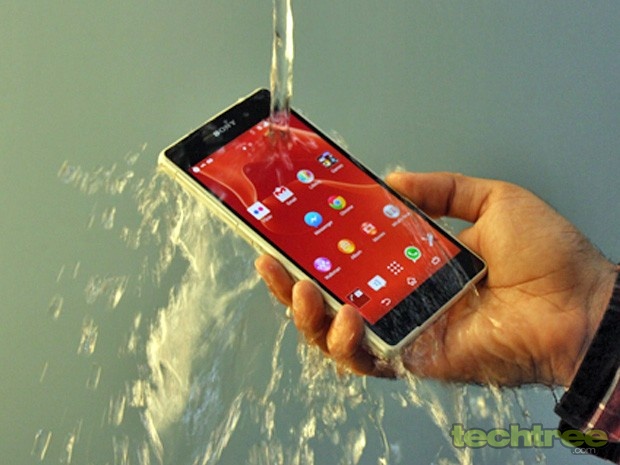 Sony has done away with the capacitive navigation keys. The Lock button is placed on the right side, where it's easily accessible with the thumb. Considering that the phone packs in a 20 megapixel camera, Sony has added a dedicated shutter button. The microSD card slot is also on this side. Bang opposite is the micro SIM slot accompanied by a dock connector.
Display
As mentioned in our hands-on article, Sony has finally gone with the IPS display, which offers great viewing angles. The 5.2-inch screen packs in 1920x1080 pixels. That roughly translates to the pixel density of 422 ppi. The screen is very sharp. You notice this especially when browsing a text-heavy webpage. However, the screen has a slight red tinge to it, which is quite noticeable on white and black backgrounds.
Specifications
The Xperia Z2 is powered by a 2.3 GHz quad-core Snapdragon 801 chipset. To take care of heavy multitasking, the phone packs in 3 GB of RAM. The gaming bit is looked after by the Adreno 330 GPU. Then, you get a 20.7 megapixel rear-camera with Exmor RS sensor. It boasts of 4K video recording. For selfies, there's a 2.2 megapixel front-facing snapper. Other features include 16 GB internal storage, microSD card slot, Wi-Fi, Bluetooth 4.0, NFC, and 3200 mAh battery.
User Interface
The handset runs Android 4.4 Kitkat with Sony's custom skin on top of it. The PlayStation's XMB inspired interface is quite colourful. Much like the company's gaming console PlayStation Vita, the Z2 features round icons. That sounds like a good idea, but unfortunately it breaks the UI consistency as default Google icons are still box-shaped. That said, Sony's UI is still more acceptable than that of Samsung and LG.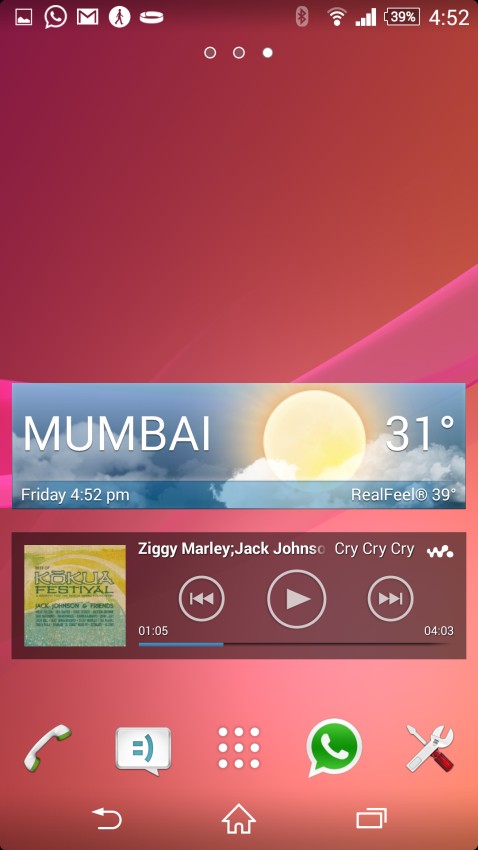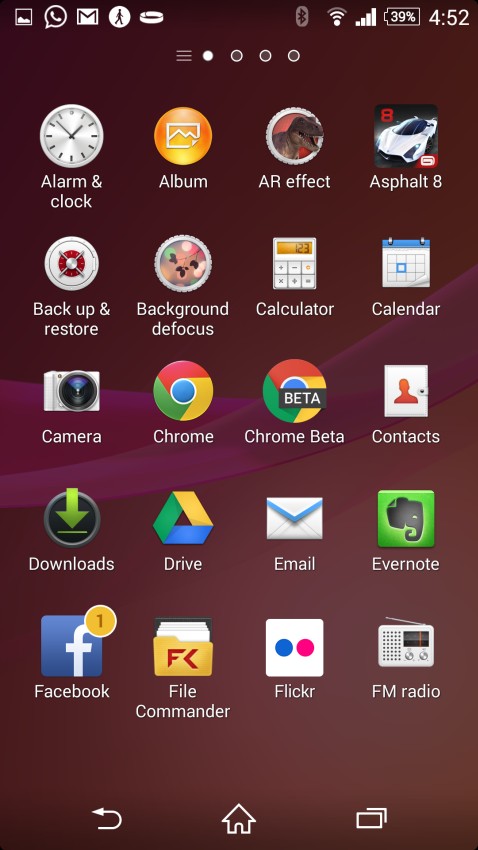 To check its performance, we tested many high-end games including Real Racing 3. The Z2 did impressive work at churning out the console-grade graphics. If you're a mobile gamer, this phone won't let you down. For synthetic benchmark scores, check out our hands-on article.


SmartBand
The Z2 ships with a free Sony SmartBand SWR10, which costs around Rs 6000 if bought separately. This wearable device, unlike smartwatches, doesn't display information, but feeds it to your smartphone.
Accompanied by the Life Log app on your smartphone, the wrist band keeps track of your foot steps, messages, media, sleep, calorie burn, and more. Yes, it does sounds creepy. Especially, considering that it syncs all the data to Sony's servers. Using the handset, you can set activity goals and monitor your progress. Overall, it's a nice utility for fitness freaks.

Multimedia
The Xperia Z2 offers excellent sound. There plenty of equaliser settings and sound modes to play around with. Some of them such as ClearAudio+ and xLOUD enhancement are worth noting. The video player, doesn't support many formats, but then you can easily grab a third-party app such as the MXPlayer.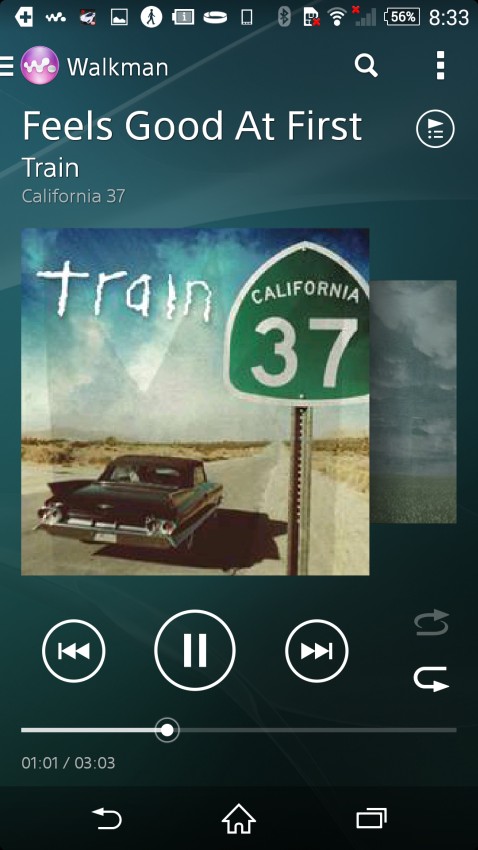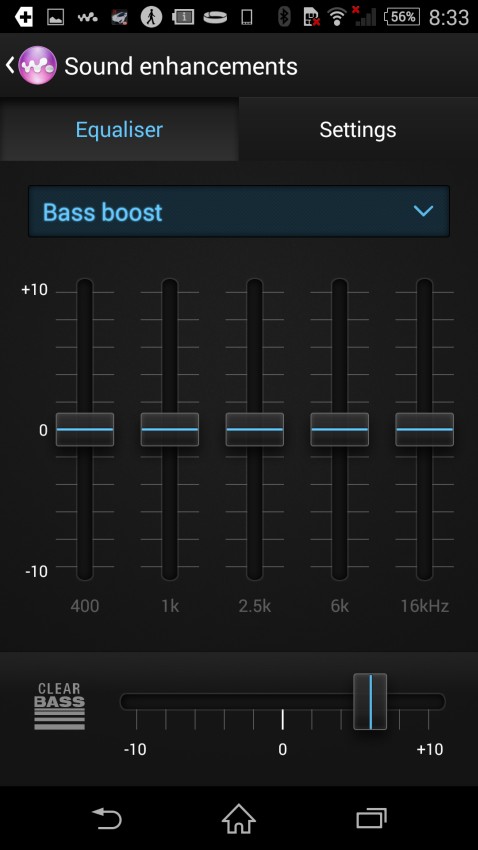 Camera
The Xperia Z2 sports a 20.7 megapixel camera. It is backed by Exmor RS backside illuminated sensor. The images turn out to be very good in well-lit conditions. Thanks to waterproofing, you can use this phone to record videos in a swimming pool. However, the details are nowhere near what you'd expect from a 20.7 megapixel camera. The Superior Auto mode works well, but it could get better if Sony goes easy on the image softening effect. Another limitation is that the Auto mode can only snap up to 8 megapixel shots. If you want to shoot in 20 megapixel mode, you have to switch to the Manual Mode. In this mode, you only get to tune the exposure, white balance, and ISO. There are no controls for manual focus sharpness, and contrast. Click here to view full-resolution camera sample.
In terms of low-light photography, the Z2's performance is nothing to write home about. The photos contain a lot of visual noise. What's worse is that the phone introduces purple tinge to the images. Overall, the Z2's camera is hardly any better than what's there on its predecessor.
The phone offers much-hyped 4K recording feature. 4K videos are more detailed than 1080p. The file size can go as high as 200 MB for a 30 seconds clip. The biggest bummer here is that the Z2 heats-up while recording 4K video. So much, that the device automatically exits the camera app after 60 - 90 seconds. I wonder why Sony added this feature, if it hardly works for a minute.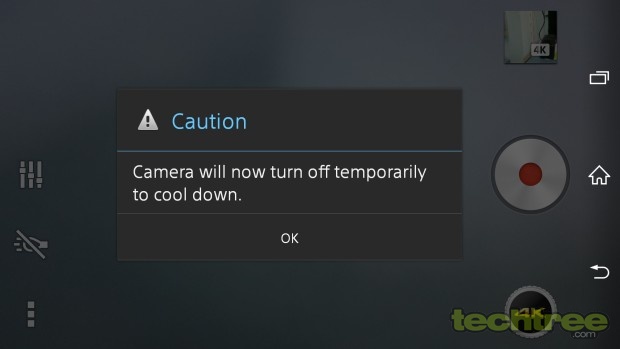 Telephony And Messaging
Although the phone's network reception was spotless, the voice calls sounded muffled due to waterproofing. Sony hasn't put in much of a thought while designing the on-screen keyboard. Despite the 5.2-inch screen size, the keys are quite small and there's not even a separate row for number keys.
Battery
The 3200 mAh Li-Ion battery keep the device powered for a day and half under normal use. In our video loop test, it managed to power the device for a little over 12 hours. That's impressive for a powerful Android device with a large screen.
Verdict
The Xperia Z2 is currently selling for Rs 44,500 via online stores. The retail package includes the SmartBand SWR-10 worth Rs 6000. Thanks to the Snapdragon 801 chipset, the phone is great for gaming. This premium handset is resistant to water and dust. On the flipside, the in-call sound is quite muffled due to waterproofing. Although significantly better than its predecessor, the Z2's screen still lags behind the competitors. The 20.7 megapixel camera doesn't live-up to the hype. Hard to believe, but the heavily promoted 4K recording feature hardly works. So while the Xperia Z2 is a good phone with some strong areas, the LG G3 is still the best all rounder in the market.

Features: 4/5
Design And Build Quality: 4/5
Performance: 3.5/5
Value For Money: 3/5
Mojo: 3/5

Overall Rating: 3.5/5
TAGS: Mobile Phones, Android, Sony, Xperia, Xperia Z2