Review: LG L90 Dual | TechTree.com
Review: LG L90 Dual
LG's answer to the Moto G has got its pricing wrong.
Rating

3
/5
29th Apr 2014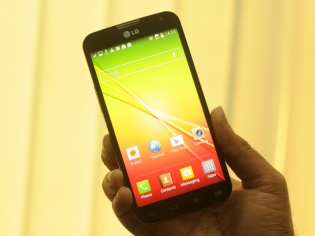 Pros:
Great performance; Latest Android Kitkat; Good battery life; Can work as a TV remote.
Cons:
Average screen; Camera is disappointing; Uninspring design; Inflated price.
LG L90 Dual
Street Price: Rs 16,500

After tasting success in the premium segment with the G2, LG has now released its L90 Dual to grab market share in the mid-range segment. This phone belongs to LG's third wave of devices from L-series. Armed with a quad-core Snapdragon chip, the L90's biggest competitor is Motorola's insanely popular Moto G. It does come with a relatively bigger screen and more megapixels compared to Motorola's offering. But, does it justify its Rs 16,500 price tag?

Design And Build
After reviewing unwieldy phones such as LG G Flex and GALAXY Note 3 Neo, the L90 Dual comes as a much needed change. It's good to see that the Korean company has decided to with a not-so-big 4.7-inch screen. Because of this the handset fits well in your palm. The key layout on the L90 looks a bit off since LG has added a dedicated SIM switch key to the standard set of Android keys. The lock button is placed on the right side, while the volume rocker sits bang opposite.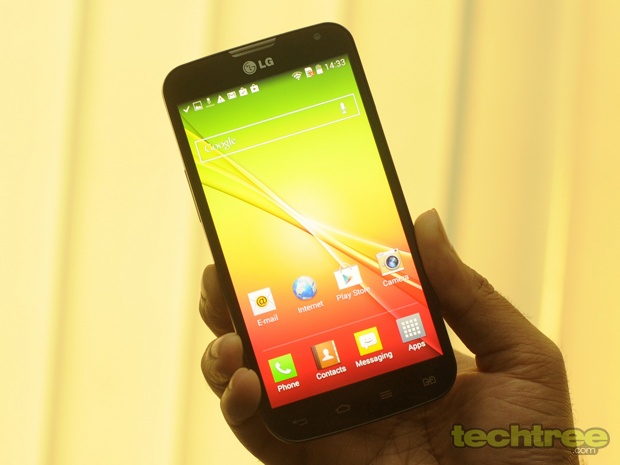 Coming to the subject of aesthetics, the L90 Dual sports one of the most boring design in its segment. I'm not saying that it looks bad, but looks dull and dated. LG has been using this design since the L7 II Dual that was launched last year. The textured back-panel doesn't look appealing, but it does help with the grip. The phone is lighter than the Moto G, but doesn't feel solid like Motorola's offering.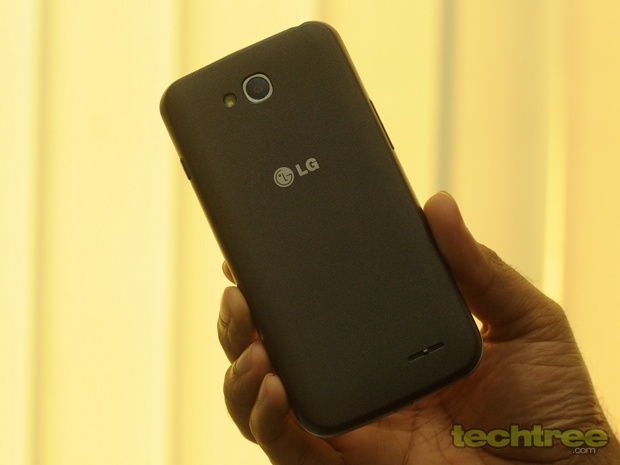 Screen
The L90 sports a 4.7-inch screen with 540x960 pixels. As you would have already guess, the screen isn't sharp. It's an IPS type screen, which offers good viewing angles. It's protected by Corning's Gorilla Glass, so you don't have to worry about scratches. However, the colours look washed out. This is quite disappointing since the relatively cheaper Moto G offers an HD screen with much better colour reproduction.

Specs
The phone is powered by Snapdragon 400 quad-core chipset clocked at 1.2 GHz. The L90 Dual comes with an 8 megapixel camera, 1.3 MP front-facing snapper, 1 GB RAM, 8 GB Internal memory, microSD card slot, Wi-Fi, Bluetooth 4.0, A-GPS, Dual-SIM support, and 2540 mAh battery.

Software
The phone comes with the latest Android 4.4 KitKat. The customisation is similar to what we've seen on the G2. It's kind of garish and in-your-face, but then that's fine for a mid-range device. We would really appreciate if LG would come up with something clean and simple. One of the highlights of this phone is LG's Knockcode allows you to wake and unlock the screen with a tap pattern. It's a good concept, but in this stage I think it's more of a hit-and-miss affair. Similar to its high-end sibling G2, the L90 packs in an IR (infra-red) port. This allows you to use this phone as a remote for TV, music systems, and AC.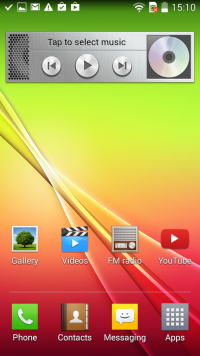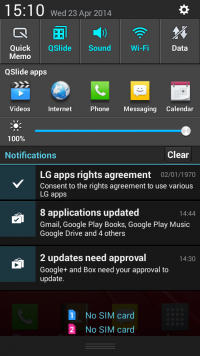 Performance
Since the processor doesn't have to push many pixels, the phone operates smoothly. Coming to the subject of gaming, anything from Fruit Ninja to Real Racing 3 runs well on this phone. However, most gamers will be quite disappointed by the low-pixel density. To gauge the performance, we ran a couple of synthetic benchmarks and here are the results.
Antutu: 17,926
Quadrant: 8981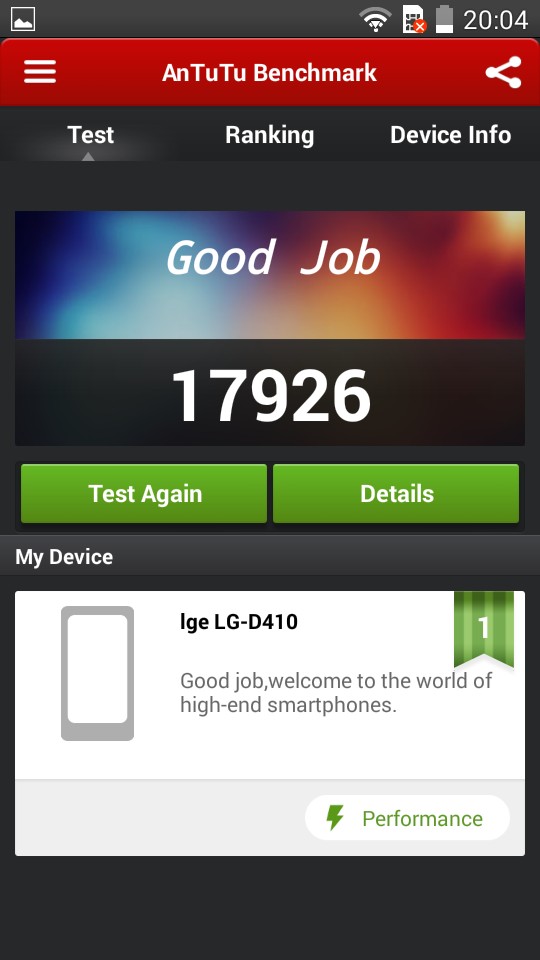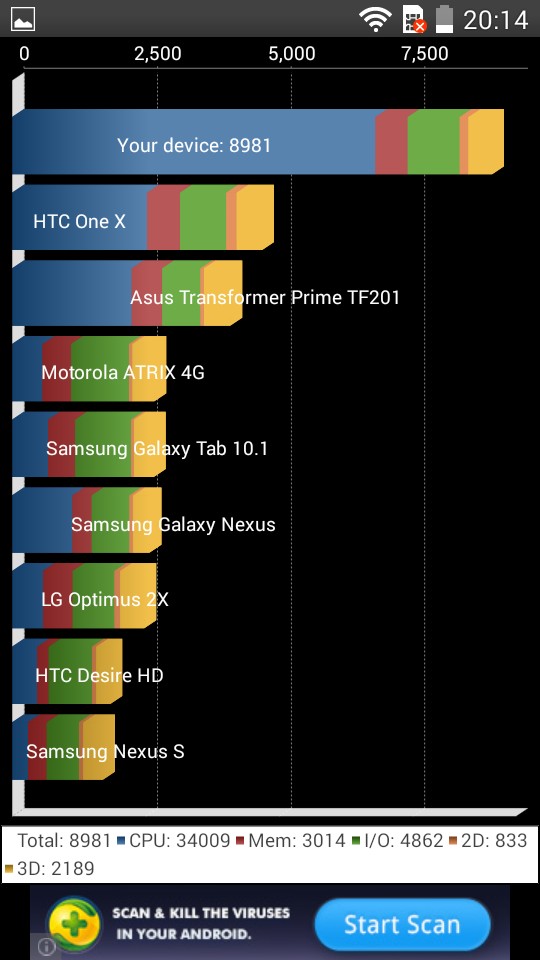 The music quality is average. There are options to enhance sound with Bass and Treble settings, but that doesn't really help much. The bundled earphones are shoddily made, and their output is disappointing too. Moving on to video playback, the phone supports popular video formats such as MP4, XViD, and DivX. Not all MKV videos are supported by default, but you can make them work using third-party apps.
Camera
Much like LG's high-end devices, the L90 Dual offers variety of modes such as Panorama, Sports, Continuous shot, and Time catch shot. It's quick to lock focus on objects and shot-to-shot time is impressive too. You can quickly start camera app by long pressing the volume down button from the lock screen. That's quite neat. Unfortunately, the image quality is bad. The details aren't enough for an 8 megapixel snapper. Moreover, there's too much visual noise in the photographs. It can record 1080p videos at 30 fps. Similar to the still photography, there's nothing to write home about in video recording feature.
Telephony
The LG L90 offers elaborate dual-SIM settings. Using that you can even set a separate ringtones for each SIM. Plus, as mentioned earlier, the phone comes with a dedicated SIM-switch button, which saves you from digging deep into those settings. The call quality and network reception were very good.
Battery
The LG L 90's 2540 mAh battery powers the device for over a day and half. In our 720 video loop test, it lasted for almost 7 hours and 30 minutes. That's certainly better battery performance when compared to its rival Moto G.
Verdict
The L90 Dual is a sensibly sized phone available for around Rs 16,500. It offers smooth performance and flexibility to switch between SIM cards. Knockcode is an interesting feature, but in its current form it's a hit and miss affair. Even if it worked well, I don't think it's something that will drive users to buy this phone. On the other hand, the display and camera are disappointing. Although this is subjective, I'm sure many will find the phone's design too boring.
So the L90 Dual isn't a bad phone. However, the Moto G offers similar performance, HD screen, and a better design for 3.k less. So unless, LG bring the phone's price down by a couple of grands, we wouldn't recommend it.

Features: 4/5
Design And Build Quality: 3/5
Performance: 4/5
Value For Money: 2.5/5
Mojo: 3/5
Overall Rating: 3/5

Specifications:
4.7-inch screen with 960 x 540 pixels.
Quad-core Snapdragon 400 chipset clocked at 1.2 GHz, Adreno 305 GPU.
8 MP camera with LED flash, 1.3 MP front-facing camera.
1 GB RAM, 8 GB Internal memory, microSD card slot.
Wi-Fi, Bluetooth 4.0, A-GPS.
Dual-SIM, supports 3G.
2540 mAh battery.
Android 4.4 KitKat.
TAGS: Mobile Phones, Multi-SIM, Android, LG