Review: Olympus Stylus SH-50 iHS | TechTree.com
Review: Olympus Stylus SH-50 iHS
An impressive pro-zoom that is almost there.
Rating

3.5
/5
09th Jan 2014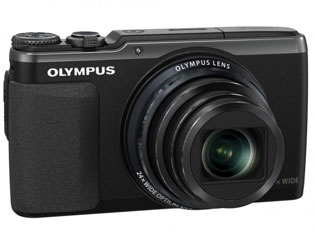 Pros:
Ultra Slow-mo video capture; Decent low-light shots; 24X optical zoom with IS.
Cons:
Wi-Fi support only via Eye-Fi cards; Macro images lack detail; Over-saturtation of images.
Olympus Stylus SH-50
Street Price: Rs 19,990
Who should Buy
- Those looking for a high zoom camera in a compact camera.
- Who enjoy "fun" effects right from the camera.
- Who love taking in-camera panorama shots.
- Who don't mind connecting to the web using Eye-Fi.

Who should Not
- Don't care about 24x zoomer.
- Who want a pro-zoomer for cheaper.
- Those who want in-built Wi-Fi.
Big zoom in point and shoot cameras is quite a rage these days. If you have a sub 20K budget, there are quite a few snappers you can consider. The Olympus Stylus XZ-10 had been a disappointment as far as User experience is concerned. But at a lower price point and bigger zoom, will the Stylus SH-50 prove to be a better buy? Let's find out.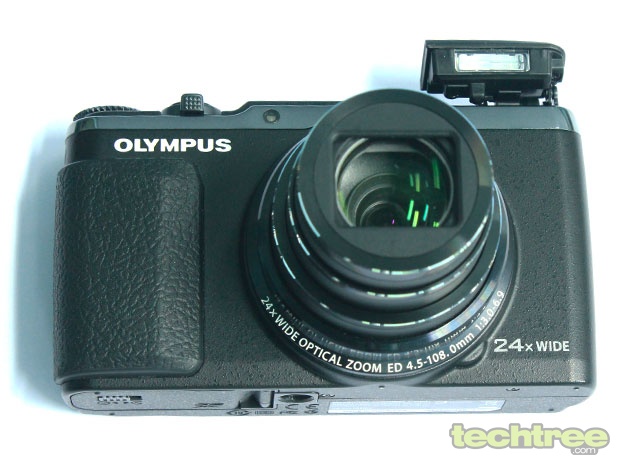 Aesthetics and Build
The Stylus SH-50 looks very similar to the XZ-10 with its rubber grip and all-plastic, which makes it well-built and very good looking. The pop-up flash looks a bit too brittle, and can be enabled with the "UP" button located just under the flash. The top has the mode selection dial, stereo speakers, popup-flash, power button, and zoom ring. Its 24x optical zoom is impressive at first glance, but more on that later. The front is dominated by a non-replaceable lens with an auto-focus lamp. On the right is the mini-HDMI Out and input ports, while the memory card slot and battery pack tucked in the base.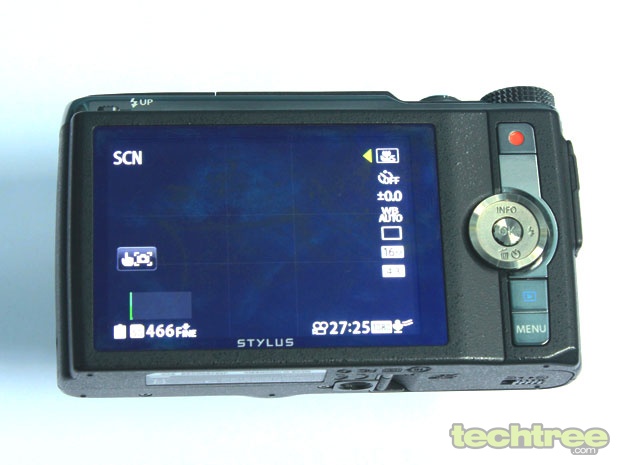 When you turn around the snapper, you'll notice that it has a much cleaner button layout, which is very minimalistic. There is a 3" LCD touch screen, along with the usual controls: record button, playback, menu, and info keys. Overall, this is quite a looker, and is fun to use.
User Interface
This camera is easy to use, and you can just get it out of the box and start clicking. Unlike the XZ-10, this UI is good to work with. The info button is a lot better described, and the Fn button has been done away with. That said, the restrictive touch support continues to haunt Olympus fans, you still cannot change any options appearing on the screen. One can only switch from touch-to-focus, touch-to-click, or touchscreen off modes. That said, its auto focus is very impressive.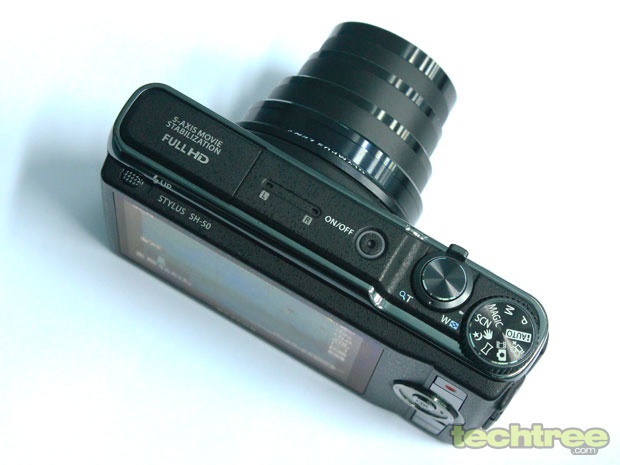 For those who opt for high optical zoom at a fairly affordable price tag, you will have to let go of detailed control of camera settings. However, with a smallish sensor which is just 1/2.3" wide, there is nothing to complain really. In the manual mode, you can play around with the exposure value, shutter speed, aperture settings, and the ISO; but the program mode lets you control ISO and EV only. You get a plethora of white balance settings to play around with, and the Magic button offers effects to keep you entertained.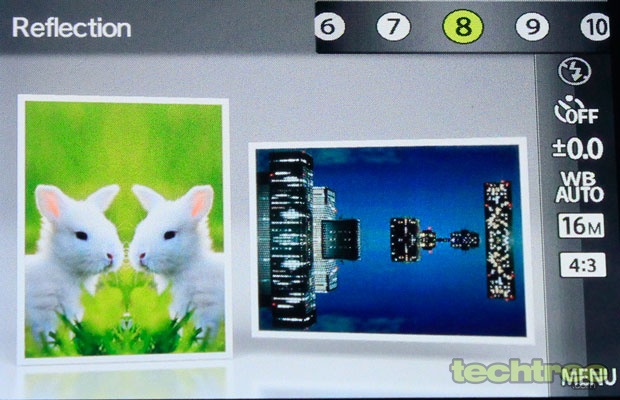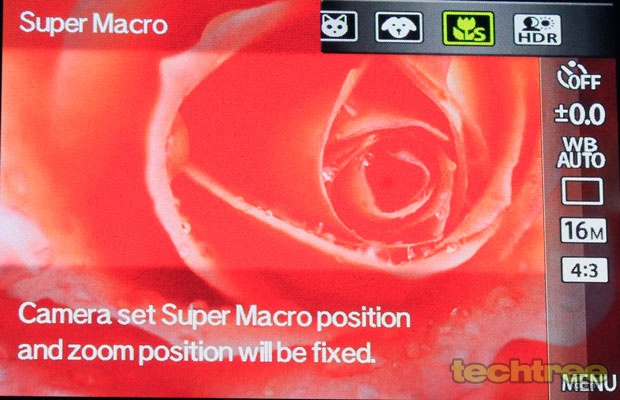 Another limitation is that the f-stop values drop to f/3, and it goes up to f/6.9, which is because of the restrictive nature of the lens optics and sensor size. On the video front, the camera supports full HD Video recording @60 fps, lets you capture images as you shoot, or capture ultra-slow-motion videos at 120 or 240 fps, depending on the mode you pick. More on that in the performance section. Overall, the camera is fun to play around with.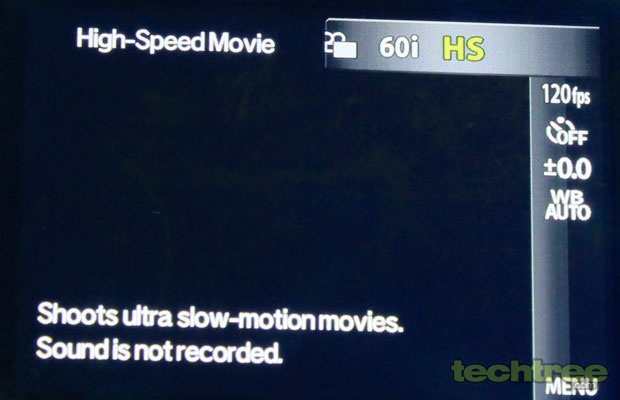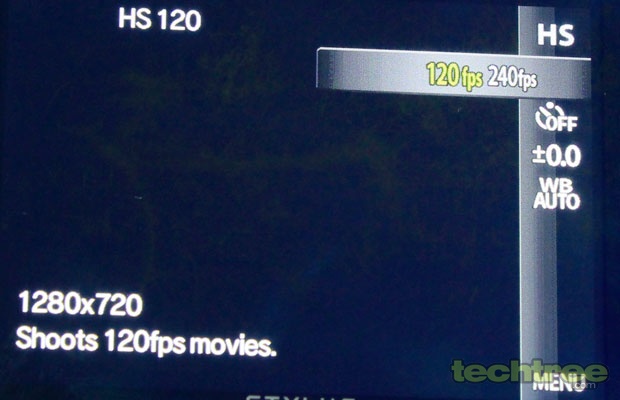 Performance
The camera is fun to play around with and is better to handle than the pricer XZ-10, even though it doesn't give you too much control over the pictures you take, in terms of exposure value, shutter speed, aperture settings, and ISO. Also the low F-Stop value might be a downer for some, but quite frankly anything less that f/2.8 make your subjects look like awkward cut-outs and the background too blurry. So f/3.0 should work well for most.
Coming to capture modes, the auto and panorama modes are quite impressive. This has been one of the best snappers to capture vertical/horizontal panorama shots that I have come across. Also, for the newbies, the iAuto and the hand-held starlight mode is a delight to use. The latter can come in handy even when taking long-exposure shots. In the SCN mode, the most interesting are the super macro that claims to let you shoot from a distance of just 3 cms from the subject and the backlit HDR, where the BSI sensor comes into play. The macro is a bit of a disappointment, it tends to smoothen out details, which is annoying. Another thing that is impressive is the image stabilisation, which gives you shake-free shots even at 24x zoom.
Coming to the ISO settings, images up to 3200 are quite useable, after with the photo grain becomes very obvious.
Considering that this is a point and shoot. It comes with a few gimmicky "fun effects". Check out the gallery below to see if you enjoy them.
Verdict
After taking the XZ-10 out for a spin, the SH-50 comes across as a breath of fresh air. There is very little to complain about as far as features and ease of use is concerned, as it manages that quite well. However, the touchscreen continues to be a sour spot even now, and like all point and shoots this one also oversaturates colours, which is fine for sharing on the web. Given its price tag, you pay a bit more than the Nikon COOLPIX S9500, just for 2X more optical zoom. So if you are looking for a pro zoomer in the sub-20K price range, these two snappers can be well worth your consideration.
Features: 3/5
Design And Build Quality: 3.5/5
Performance: 3.5/5
Value For Money: 3/5
Mojo: 3.5/5
Overall Rating: 3.5/5
Specifications:
16 Megapixel 1/2.3" CMOS sensor.
4.5 - 108mm focal length, aperture range f3.0 (W) - f6.9 (T).
24x Optical Zoom + 2x Super Resolution Zoom + 4x Digital Zoom.
3.0" LCD touchscreen.
Super Macro Mode: 0.03m.
ISO 125-6400.
Video: MOV/H.264.
Motion Blur Suppression 3-Axis Image Stabilization.
Backlight HDR and Smart Panorama support.
Movie Mode: 1080 60i, 1080p, 720p, VGA, High Speed 120fps (720p), High Speed 240fps (QVGA).
Internal storage: 39.3 MB.
Mini HDMI Out.
Supports Eye-Fi enabled SD Cards.